Gisele Bundchen Posed Nude For Earth Day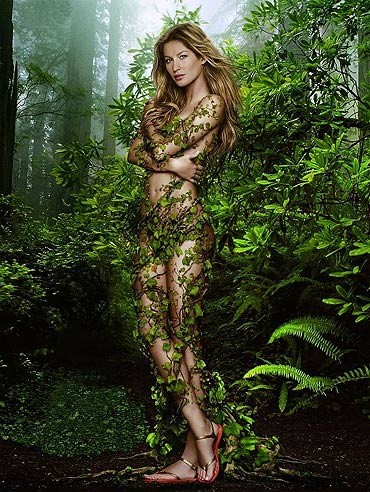 Supermodel Gisele Bundchen posted an image to her Facebook page on Sunday wearing nothing but some creeping vines and a pair of sandals in recognition of this year's Earth Day.

"Today is the Earth Day! Our health depends on the health of our planet," she wrote; "Let's take care of our beautiful home."

With typical Earth Day weather on the eastern seaboard up through northern New England on Sunday - clouds, heavy rain, wind and even some snow in places - Gisele's sexy photo definitely warmed things up.

The wife of New England Patriots quarterback Tom Brady was recently named one of Time Magazine's ten most influential models in the world of fashion since 1923 (she comes in at #1 if you list the ten models alphabetically!); and Forbes magazine says she could be a billionaire by this summer as she's been the highest paid supermodel since 2004, raking in $45 million in 2010 alone.

Last month, Gisele visited a baby elephant orphanage in Kenya.

"I will never understand how someone could kill or harm an animal as beautiful and special as an elephant," she said of her experience. "We need to speak up for these animals or they will continue to be in danger."