Girls On Film: Sexy Supermodels Fill In For Duran Duran In The Band's New Video, 'Girl Panic!'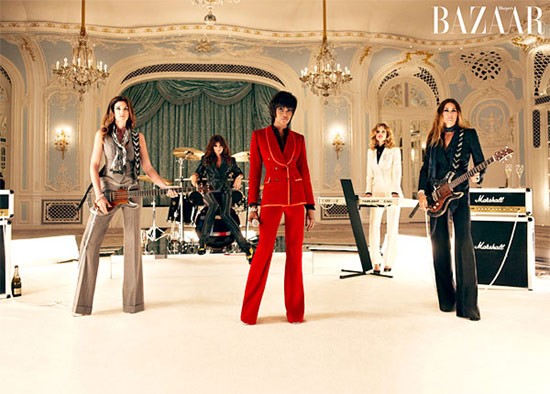 Five sexy supermodels have taken on the role of playing Duran Duran in the band's upcoming video, "Girl Panic!"

In addition to filming the video for the band's new song, Naomi Campbell, Cindy Crawford, Eva Herzigova, Helena Christensen and D2 lead singer Simon LeBon's model wife Yasmin have done a new photoshoot in conjunction with the video shoot for the UK's Harper's Bazaar magazine.

"Harpers had approached us about collaborating with the magazine on something really special," the band's keyboardist, Nick Rhodes, says. "I'd had had this crazy idea for a video for the song 'Girl Panic!' that looked fantastic on paper but that I thought in reality would be impossible to pull off.

"The idea was to recreate a day-in-the-life of the band, with five of the world's greatest supermodels playing all of us. (They) loved the idea of doing a cover shoot within the video itself - and so it all began."

In the shoot, Campbell takes center stage as singer Le Bon, Crawford & Le Bon's wife Yasmin portray the band's guitarists John Taylor and Dom Brown (Brown tours with the band and has been a studio session player for the band since 2006, when guitarist Andy Taylor left for a second time), Herzigova takes keys for Rhodes and, rounding out the quintet, Christensen fills in for Roger Taylor on Drums.

The video was directed by Jonas Ackerlund, who has worked with Lady Gaga on several occasions, and was shot at London's Savoy Hotel..

"We have made some pretty ambitious videos over the years, but this one was certainly the most challenging to date," says Simon Le Bon.

"Co-ordinating the schedules of five of the world's biggest supermodels, Jonas, and the band was no easy task - but we couldn't be happier with the finished film," he adds.

"It has all of the ingredients that we feel are important - it's humorous, glamorous, sexy and very Duran Duran."

The video will be screened at the upcoming Harper's Bazaar Women of the Year Awards 2011, held on November 7 at Claridge's Hotel in Mayfair. The band will be presenting the five models who represented them with the Fashion Icons of the Year award.

Listen to "Girl Panic!" below...