Girls Aloud's Sarah Harding Checks Into Rehab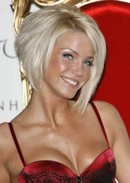 British pop star Sarah Harding has checked into rehab to battle depression and alcohol addiction issues.

The Girls Aloud star is seeking help in a clinic outside of the U.K. after struggling to get over her split from fiance Tom Crane last month. The couple planned to wed next year, but the relationship fell apart following a series of arguments.

According to Britain's The Sun, Harding - famed for her heavy partying - turned to alcohol to drown her sorrows.

A source tell the publication, "She's been through a traumatic time in her personal life and had to honor her work commitments on top. She needs some time out to clear her head. Splitting from Tom has played a huge part in her decision to seek help. She just needs to get herself back on track emotionally. She had hit rock bottom."

"It all just got the better of her. She had been with Tom for a long time. All her plans for the future suddenly came crashing down. Some of her closest friends had suggested she seek help over the last few months, but she refused. She was burying her head in the sand, but now she is getting support."

A representative for Girls Aloud says, "Sarah Harding has entered a treatment centre for depression and alcohol addiction."