'Girls' 2.05 Recap: 'One Man's Trash'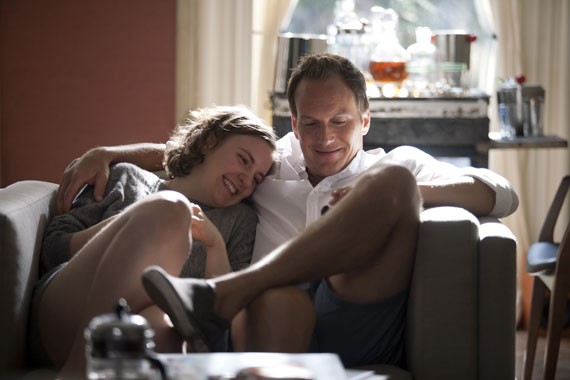 There's a particular indelibility about your early twenties that's hard to clarify in layman's terms. You're equal parts eager, wistful, contemplative, mournful, nostalgic, muted, ample, sad. But most of all, you're sorry. You're sorry that you didn't do so many of the things you dreamed about in your early years. You're sorry you're not a veterinarian or a news anchor, you're sorry you don't have a family, you're sorry you had a family too soon, you're sorry you're settled into an existence you're not sure you wanted, you're sorry you still haven't found an existence worth settling for. You're sorry that no matter what facade you've mounted, it's never an exact summation of every heartache you're masking underneath.
It's easy to lose a sense of who Hannah Horvath is. She's often sidelined by her showier orbit of friends. Which isn't to say she's quiet or unseen. But her personality is more amorphous. While Jessa and Shoshanna and Marnie have broad-stroke personalities, Hannah is a searcher. Sometimes she's game for a random coke-fueled night of dancing and debauchery. Other nights, she's cooking pasta for her friends, wearing an apron and setting oven timers. But she plays it cool, for the most part. Even though we've treaded through her inner demons, she's never truly lost her temper or broken down.
"One Man's Trash" is an often puzzling half-hour of television, because it isn't the straightforward storyline Girls usually feeds us. It starts with Hannah at Grumpy's coffee shop with Ray, talking about how she's pretty sure she invented the term "sexit" (definition: leaving a party early to go have sex). After an Urban Dictionary search proves her wrong, the two are interrupted by a neighbor who claims someone is dumping Grumpy's garbage in his trash cans. Ray gets instantly furious and protests such accusations, and the neighbor leaves in a huff. Hannah's taken aback by Ray's blunt rudeness and quits. She tracks down the neighbor back at his place and apologies on his doorstep - she's the one who's been dumping the trash at his place, because she lost her Grumpy's trash key and is afraid of Ray. The neighbor seems pleased with her honesty and invites her in for a glass of lemonade.
This neighbor isn't your average Brooklyn wannabe, however. He's Joshua (not Josh), played by the all-American handsome showboat Patrick Wilson. His model good looks and impressive house woo Hannah immediately. "I feel like I'm in a Nancy Meyers movie," she says as she gapes at his kitchen, all stream-lined linen and fancy white countertops. Hannah decides to dismiss herself, realizing the oddity of the situation, but before she can, she does a purely Hannah-esque thing: she kisses him. She apologizes immediately for intruding, but then he kisses her back. And then they have sex on his kitchen counter.