Girl Who Had Her Butt Grabbed By Robin Thicke Says She'd Love To Hook Up With Him Again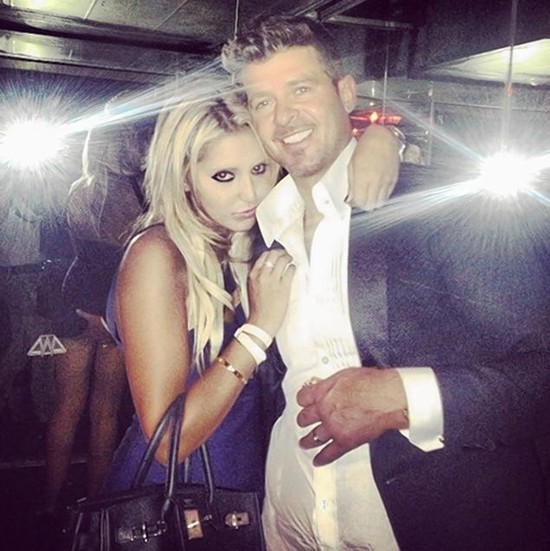 The 20-year-old woman who was spotted getting close with Robin Thicke at a party following last summer's MTV Video Music Awards (VMAs) has offered herself up as a potential rebound for the singer, who announced his split from wife Paula Patton on Monday.

Lana Scolaro scored a photo with Thicke at the party and posted it to her Instagram page, revealing his hand on her backside in a mirror behind them and shortly after claimed that she had met the singer a week before the VMAs and that she spent most of the evening at the party by his side, even while Patton attended the same bash. She also claimed that she made out with him at the party, something she tells TMZ.com she regrets, but she'd love to hang out again.

"I'd love to grab a drink with him if he asked," she said.

TMZ also reports that Scolaro isn't surprised that the two stars, together for over 20 years and married for nine of them, have decided to split.

"Robin acting like that with me makes me think there were many more [girls]. It's a shame because when you have a kid, it's upsetting," she adds.

Following the butt-grabbing incident, Thicke denied Scolaro's story, saying, "My only comment about the so-called scandalous photo would be that my wife and I are perfectly in love and very happily married. So, no complaints there."
Robin and Paula released a statement on Monday, saying, "We will always love each other and be best friends, however, we have mutually decided to separate at this time."