Ginnifer Goodwin Swears A Lot On 'Once Upon A Time' Set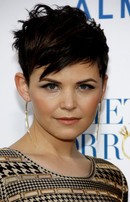 Actress Ginnifer Goodwin is learning to clean up her act while starring on new TV series Once Upon A Time - because she has to pay up everytime she curses on set.

The He's Just Not That Into You star reveals her 11-year-old co-star Jared Gilmore has established a swear jar to encourage his elder colleagues to keep their language curse-free whenever he's around - and it's prompted Goodwin to watch what she says.

She tells People magazine, "I've been trying to curb it. We have an 11-year-old star on our TV series who charges us money every time we curse. There's a lot of 'Holy Moly' these days."