Gina Carano To Receive Inaugural 'Chick Norris Award'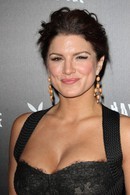 Mixed martial arts star-turned-actress Gina Carano is to be honored with ActionFest's inaugural Chick (sic) Norris Award for her high-octane performance in Haywire.

The prize, named after the event's 2010 Lifetime Achievement Award recipient Chuck Norris, honors the Best Female Action Star of the year.

Carano, who made her movie debut as a leading lady playing a betrayed black ops soldier in the Steven Soderbergh film, will accept the honor at the festival in Asheville, North Carolina in April.

The former American Gladiators star says, "It is an incredible honor to be included in this event. Chuck Norris has always been someone I respect and look up to. Being able to represent martial arts as a woman has been a blessing in my life and I am so intensely grateful to the people who have supported and shared this passion with me."

And Norris tells WENN, "I am honored to have Gina Carano receive this award... I cannot think of a better person than Gina for this honor, and I am proud that she is the first to receive this award. I highly respect her martial arts ability and she deserves all her accolades for Haywire. Watch out world, a star is born. A proven fighter and very tough action star is here to stay."