Gina Carano Talks About Becoming A Movie Star In 'Haywire' And Her Reasons For Fighting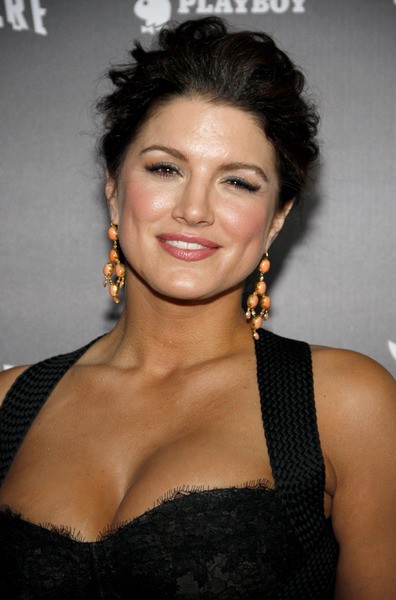 Fight fans have been enamored with Gina Carano since she entered the cage as a MMA fighter. Now moviegoers can discover the newest action hero, with a raw, real fighting style that could put the Hollywood heroines to shame.
Haywire stars Carano is Mallory Kane, a betrayed agent who fights to clear her name. The traditional action caper was Steven Soderbergh's idea to make Carano a star. Carano glammed up for a press conference on the film, although she still looks like she could tap you out in a leg lock.
Q: We're all impressed by your physicality. How do you see yourself?
GC: I think my physicality is the whole reason why I got the job in the first place, and I think it's probably because a lot of it has to do with I do all the things like guys maybe. I fight like a guy a little bit. I run like a guy. I don't know. I didn't really understand the question really.  The whole reason I got this movie is because I'm physical. I have been my whole life. I grew up a tom boy and probably never stopped being that way. I enjoy being physical. I enjoy expressing myself that way. So, I hope to continue doing that in whatever I do, whether it be acting or fighting or just be living day to day. 
Q: How did you get the part?
GC: I got the phone call after I lost my first fight to "Cyborg" Santos. And I didn't really want to speak to anybody at the time I was bummed. I had a black eye, and my agent called me and he said that this director wanted to meet me, and I didn't know who he was. I don't know anything about Hollywood really, still. I'm still learning. So, he called me, and I knew he did Traffic, and that was a movie that really touched me. So I decided to pick him up at the train station in San Diego. We had a four hour lunch and at the end of it he offered me a movie. So, there was no auditioning. I don't know what that is like yet.
Q: How did you have to adjust your fighting for movie fights?
GC: These guys wanted to do everything, from the smallest things off camera, which I don't know if it's normal or not, off camera to on camera. I showed up with the stunt crew and we coordinated the fights together. 87eleven is the stunt is the stunt crews name. And then these guys you know have busy schedules, and they would come in whenever they could and learn. But they wanted to do everything. Which I think Steven Soderbergh did a good job surrounding me with some of the best people he could in a film.
Q: What about the fight against Michael Fassbender?
GC: Fassbender's crazy. He loves that sh*t. He had no problem slamming me into anything. Actually Steven Soderbergh told him once, "We need to get this shot better when you slam her head into the wall." I was like, damn that thing's not soft. Soderbergh is behind the camera and he's being really mischievous. He wants something bad to happen.  I don't know, better acting that way? I'm supposed to slam a vase on his face. I supposed to throw the vase right past him just for that take, because we want to get that slam, my head slamming into the wall. So, we were going for it and he slammed my head so hard into the wall I kind of lost it for a second. I kind of slammed the vase right into Fassbender's face, but he said he knew it was coming because he saw a flash in my eyes.
And right after that happened I thought, I'm so fired I'm going to lose this job, because this is the first fight scene we did. Fassbender, he loved training for the fight scenes. He did 300 with the 87Eleven group too.