Gilles Impresses Again On 'Dancing With The Stars'

This week the nine remaining contestants on
Dancing With The Stars
had to prove their resilience while performing either the Paso Doble or the Viennese waltz.
Chuck Wicks
and partner/girlfriend
Julianne Hough
had the chance to perform a romantic Viennese waltz this week. Judge Len Goodman thought that Chuck had finally come out of his hibernation and performed much better than the previous weeks. Bruno Tonioli encouraged Chuck to keep his confidence all the way through his routine to earn a better score. But,
Carrie Ann Inaba
said he lost focus while dancing and that it didn't come together for her this week. With mixed reviews from the judges, Chuck walked away with a score of 23.
Lawrence Taylor
was first up to perform the Paso Doble this season. During rehearsals, partner Edyta pushed Lawrence to channel his football intensity to grasp the concept behind the dance. Unfortunately, the football star could only channel so much. Carrie Ann said his movement was very limited and it was made even more difficult by the music selection. Len agreed that the intensity was there, but the dance quality was not. Bruno, never one for tact, said the routine started out terrible, but eventually got better towards the end. He received two 7's and a 6, giving him a grand total of 20 for the night.
After falling from the top, gymnast
Shawn Johnson
wanted to redeem herself this week with the Viennese waltz. Shawn and partner Mark Ballas performed a simple routine that wowed the judges. Carrie Ann thought the simplicity was the best route and Len thought that it showed the lyrical, romantic side of the dance. Bruno agreed that the musicality was great, as well as the fluidity of her motions. And while she didn't get back on top, she made a definite improvement, earning herself two 9's and an 8, leaving her with a 26.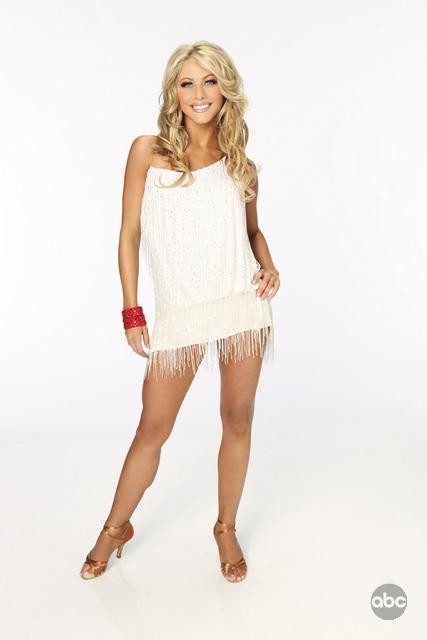 While Shawn had an off week last week,
The Bachelor
star Melissa Rycroft decided to have hers this week. Melissa performed a very difficultly choreographed Paso Doble and made a few mistakes while doing so. Both Bruno and Len pointed out her mistakes, and Melissa agreed. Len also thought that she lacked aggression, which from her rehearsal tapes was the thing she had practiced most on. Carrie Ann pointed out a questionable lift, as usual, and claimed that Melissa looked off balance while dancing. All the critiques left her with a score of 25, and
Samantha Harris
telling her she's "too nice" to do the Paso.
David Alan Grier
is still waiting for the judges to tell him he's a contender in this competition because his Viennese waltz didn't do the trick. Len was the only judge that seemed remotely pleased with his performance. Carrie Ann told David that he wasn't moving in unison with partner Kym Johnson and Bruno told him he looked like a dog at a lamppost when he lifted his legs. The classic part of his routine worked for the judges, but the slightly zany part did not. He received a meager 22 for his effort.
Gilles Marini
and
Cheryl Burke
wanted to take their Paso Doble up a notch, even though last week they scored a perfect 30, and add some martial arts to it. The dance received a standing ovation from the crowd and Carrie Ann and Bruno. Carrie Ann told Gilles that he is so passionate that he truly embodies the core and essence of the dance. Bruno said he nailed the dance perfectly; but, Len thought it was a bit hectic and didn't like seeing Gilles without his shirt on at the beginning of the dance. With a grouchy 9 from Len, Gilles fell from perfection by a point this week, giving him a 29.
After surviving elimination in the bottom three last week,
Steve-O
had his
Jackass
co-stars help pump him up for the Viennese waltz. Steve-O really wanted to get higher than a 15 this week, so he and Lacey worked hard on their mime-inspired waltz. Bruno thought the timing was much better this week, even if the technical aspect was not. Carrie Ann agreed and thought that the dance showed a nice, emotional quality. Len, admitting that he's always quite negative toward him, said that this was his best dance so far…but told him he shouldn't get over-excited about that particular fact. He upped his score from a 15 to an 18 this week.
Ty Murray
thought that the dance of the bull fighter might be his chance to shine, considering that's his day job. But his Paso Doble, according to Bruno, looked more like a transformer than a bull fighter. His movements were quite stiff and Carrie Ann thought he needed to be freer with his dancing. Len said it was a shame that this wasn't up to par with his previous dances. Ty received one of the lower scores for the night, a 21.
Lil Kim
and
Derek Hough
rounded out the night with a lovely Viennese waltz. Lil' Kim was smiling throughout the entire routine and Carrie Ann thought that she brought every moment to life. She also said that Derek and Kim compliment each other very well. Len called the dance "floaty," but said some of the waltz content was seriously lacking in the choreography. Bruno said she was the first person to make the classy waltz look sassy and sexy. She finished the evening with a very high score of 26.
Story by
Beth Wickman
Starpulse contributing writer