Giant Crocs Return For More Terror In 'Lake Placid 2'

Prepare for gory, gruesome action as four 30-foot, bloodthirsty, prehistoric crocodiles terrorize residents of a remote lakefront town in the sequel
Lake Placid 2
, debuting on DVD January 29, 2008 from Fox Home Entertainment.
In an all out battle between man and beast, a local sheriff teams up with a wildlife agent and a big game hunter to kill four bloodthirsty offspring from the first fearsome creatures of the original campy-horror film.
John Schneider
("
Dukes Of Hazzard
," "
Smallville
"),
Sam McMurray
("
The King of Queens
," "
The Tracy Ullman Show
") and Sarah Lafleur ("
Grey's Anatomy
," "
Crossing Jordan
") star as the trio on a mission to save the town from the gigantic reptiles. The film also features Academy Award® winner
Cloris Leachman
(Best Supporting Actress,
The Last Picture Show
, 1972, "
Malcolm In The Middle
") as a croc-lover bent on saving the creatures. The
Lake Placid 2
DVD includes two featurettes: "Sex, Guns, and Croc-n-Roll" and "Surviving A Crocodile Attack" and a "Gnawed Version" of the film.
Cold-blooded terror awaits just below the surface of this fast-paced and funny action thriller that delivers twice the jolts, scares and bite of the original! Suspecting that another giant croc has begun to wreak havoc on the populace, Lake Placid's easygoing Sheriff, James Riley (Schneider) and a beautiful Fish and Wildlife agent Emma Warner (LaFleur), must form an uneasy alliance with a cocky big-game hunter (McMurray) and his guide (Joe Holt) to capture the beast. Meanwhile Riley's rebellious young son Scott (Chad Collins) sets out on a lake-side camping trip with the locals - including a hottie named Kerrie (Alicia Ziegler) - and finds he has to fight for his life or become the crocodile's next meal. But only crazy, croc-loving Sadie Bickerman (Leachman) knows that these predators have multiplied and are determined to consume the whole town…one bite at a time!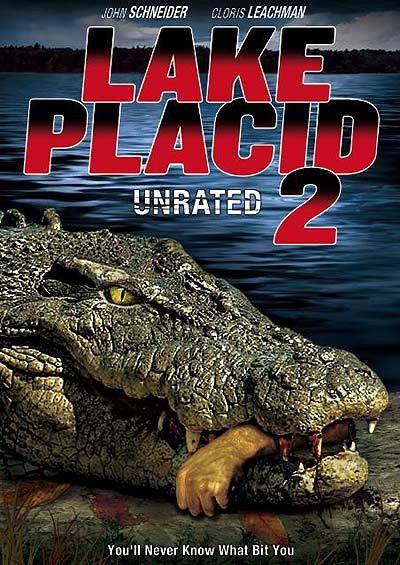 Lake Placid 2
DVD Special Features:
Available in widescreen and full screen versions, the Lake Placid 2 DVD is presented in English Dolby Surround 5.1 and features English, Spanish and French Subtitles. The DVD bonus materials include the following:
- "Sex, Guns and Croc-n-Roll" featurette - a tongue-in-cheek, behind-the-scenes look at the making of the campy sequel.
- "Surviving A Crocodile Attack" featurette
- Lake Placid 2: The "Gnawed Up" Version - a sped up version of the film that takes you directly to the action.