Ghostface Killah Sued Over 'Iron Man' Theme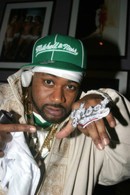 Rapper Ghostface Killah is facing legal action over allegations he illegally sampled the original theme song to Iron Man on his 2000 album.

Hollywood songwriter Jaques Urbont claims he is the exclusive owner of Iron Man Theme, a tune he composed in 1966 for use on TV, and he has accused the Wu-Tang Clan star of using the track without permission on his Supreme Clientele release.
Urbont filed suit in the U.S. District Court in New York on June 30th and names Ghostface, producer RZA and Razor Sharp Records and Sony Records as defendants.

However, that's not Urbont's only complaint - he's also objecting to Ghostface referring to himself as Iron Man and the comic book character's alter ego Tony Stark on his tracks, arguing his use of the monikers has allowed him to cash in on the Marvel superhero without having to pay for it, reports AllHipHop.com.

The legal papers state, "The defendants fraudulently concealed their use of the 'Iron Man Theme' on Supreme Clientele. For instance the liner notes of Supreme Clientele do not give any indication that Urbont's sound recording or compositions are contained on the album."

Urbont is seeking damages for the copyright and trademark infringement suit.

Ghostface, real name Dennis Coles, has been linking himself to the Iron Man characters since his 1996 debut album, titled Iron Man.