Getting To Know 'The Joe Schmo Show' Star Jo Newman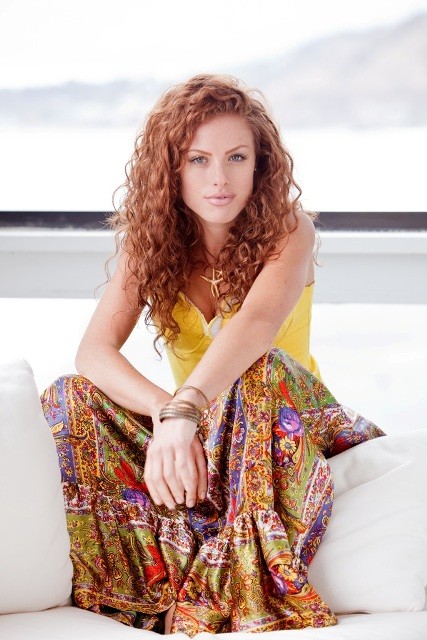 With season three of Spike's The Joe Schmo Show having ended earlier this month, actress Jo Newman can now stop pretending she's the deaf half of a bounty-hunting team. BFTV caught up with Jo to find out exactly how hard it is to consistently fake not being able to hear what's going on around you and what makes her laugh when she's not confusing unknowing reality-show participants.
"At first, we were all a little skeptical of The Joe Schmo Show. To begin with, no one knew what the hell it was!" she laughed. "In order for the show to work, it had to be created with the utmost secrecy.  We all signed pages and pages of NDAs [non-disclosure agreements] and were not even allowed to tell our agents where we were going and what we were doing.  I had been a fan of the first season, with Kristin Wiig, and was thrilled to be a part of the latest installment of the show."
Jo played Karlee, the "handi-capable" aspiring bounty hunter participating in a reality-competition series alongside ten other characters - and one unsuspecting civilian, Chase Rogan. It was a memorable experience, and not just for the laughs. "My favorite moments were ones that did not even make it into the final cut," she revealed. "Chico - the ex-con played brilliantly by Lombardo Boyar - created a really strong bond with Chase.  Chico told Chase that he liked his shirt and that he wished that he had nicer clothes to wear to the Eviction Ceremonies, and that very evening, Chase came out of his room with the shirt and gave it to Chico.  How sweet is that?"
But the very nature of the series also kept the actress on her toes. "The difficulty, for me, was pretending to not be able to hear for fourteen hours a day! You can't get tired, forget what you're doing, and ask for a re-take.  It is not that kind of a project," she continued. "On top of that, The Joe Schmo Show hired some of the funniest comedians that I have ever worked with.  Trying to keep a straight face during Michael Weaver's ridiculously funny comments [and] Rob Belushi and Nikki McKenzie's insanity, that was the biggest challenge for me."
"And those Hunter to Hunted Ceremonies were ridiculous!" she added. "It was so hard to keep a straight face while entering Lady Justice!"
The Massachusetts native couldn't imagine doing anything else but making people laugh. "I know this sounds cheesy and cliched, but telling stories in this capacity has been the only thing that I have ever wanted to do with my life," Jo explained. "When you find out what makes your heart beat faster, when you discover something that really turns you on, you owe it to yourself to give it a real shot, because that's your gift to the world.
"Every chance I have to work, doing what I love, makes me grateful and appreciative of my life.  If I were feeling super Zen, I would say that I learn more from the rejections than I do from the bookings," she continued. "And while that is probably true, being on set and getting a job makes me happier than just about anything else. Except for my husband, if he's reading this."
With her work on The Joe Schmo Show behind her, Jo has plenty of other projects and interests that are ensuring she stays busy. "I have a comedy website with Meghan Falcone at www.skipperandmidge.com where we release new sketches every Tuesday," she said. "I am also in Stephen Merchant's new HBO comedy pilot, Hello Ladies, and am auditioning quite a bit this pilot season. So, fingers crossed! I'd love to work regularly on a sitcom, and Meghan and I are pitching our own show."
She's also a certified yoga instructor, is training for a Half Ironman triathlon, declares herself a fan of the Los Angeles Kings, and loves cooking, among other things. Talk about a busy woman!
Yet somewhere in there, Jo still finds time to tune in to more than a few favorite TV shows. "I love awkward humor. Arrested Development is my all-time favorite series.  Now my DVR is filled with 30 Rock, Parks and Rec, Community, Workaholics, Portlandia, Key & Peele, Modern Family, Tosh.0, King of the Hill, Family Guy...Oh, wow. I watch too much TV," she quipped.
No matter what the humor, whether it's just awkward or as outlandish as pretending that she's a deaf bounty hunter, Jo's idea of success goes right back to just being able to put a smile on your face. "Really, all I want to do is make people laugh," she said. "I want you to watch me and forget about all of the miserable things that just come as part of the Life Package for half an hour.  That's what keeps me going."
You can keep up with Jo on Twitter (@NewmanJoJo).
(c)2013 Brittany Frederick. Appears at Starpulse with permission. All rights reserved. No reproduction permitted. Visit my official website and follow me on Twitter at @tvbrittanyf.