When you think to the late '80s and early '90s - Hip-Hop artist Kwame was an MC doing his thing like several others. In that era of Hip-Hop, it was a time of first and creativity. When Kwame was sixteen he released his first album called Kwame the Boy Genius Featuring A New Beginning in 1989. He produced it all be himself and it showed his potential as a producer. That album used a live band and delivered familiar tracks The Man We All Know and Love and The Rhythm. In the '90s, he came ready to set trend styles with a high-top fade splashed with a blond patch and attire that had polka-dots. His second album called Pokadelick Adventure came out and landed him the hit single, and everybody's favorite, Ownlee Eue.
Overall he released four albums and later found a new calling as a music producer. In 2002 he re-emerged on the scene as K-1 Million and his early works include working with such artists as
LL Cool J
,
Dru Hill
and
Mary J Blige
. That wasn't a bad start coming out the gate and those blessings added to his resume helped him to create "On Fire" for
Lloyd Banks
, "Switch" for
Will Smith
, "Turn Da Lights Off" for
Tweet
and "Understand" for
Christina Aguilera
. Now K-1 Million has a remedy and its Beyond Belief.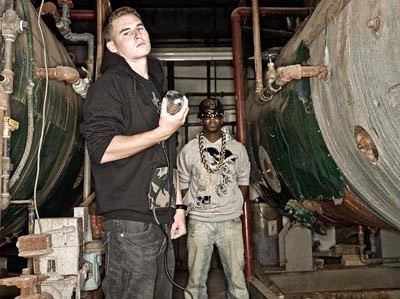 Finding some time to get away from producing for other people, K-1 has decided to bring it home and open the bar to his newest artist named Beyond Belief. BOB is from Far Rockaway, Queens and got his practice as a future MC in the basement of his parent's basement around the age of 12. When he hit high school he began letting his artistic ability flourish around his peers in the form of verbal rhyming and like they say, "it's always about timing," because Anthony Clark, another student in his circle at his high school, heard his flow and was impressed. Anthony was at the time working with Kwame and later introduced BOB to his future producer.
Beyond Belief is a guy that grew up on
Jay-z
,
Led Zeppelin
and
Prince
so his style is interesting. After hearing enough from his Myspace page, which I provided at the bottom, his music touch is combination
Beastie Boy
and
Eminem
. He can go both light and cool, then switch over to hard and lyrical and it's not forced. BOB has a lot of potential and should be a welcomed voice in an industry that needs some belief.
www.myspace.com/beyondbeliefmusic
http://beyondbelief.vox.com/
Story by
Seneca "The Beast" Doss
Starpulse contributing writer