Get Your DVD And Blu-ray Ready For National 'Hangover' Day

When your movie makes close to $300 million, you get to declare your own holidays. Warner Brothers has announced New Year's Day, January 1, 2010 as National
Hangover
Day. By then, everyone will own the DVD or Blu Ray of the year's number one comedy. They recommend viewing the film as a cure for a New Year's Hangover.
The film's stars got into it too.
Rachel Harris
, who plays Stu (
Ed Helms
)' nagging fiancé, said, "I think for National Hangover Day, I will do my best to be so drunk that I can really participate in National Hangover Day," she joked. "I'm really not a big drinker, so I think my part of National Hangover Day would just be to do whatever I could to make my friends that are really hurting comfortable. Honestly I will be celebrating National Hangover Day at the Rose Bowl because I'm from Ohio. My parents are flying in so I'm going to do that New Year's Day. I'm going to celebrate at the Rose Bowl with my parents. Part of that is really happy and sad at the same time."
Rob Riggle
tazed the boys from
The Hangover
in one of the film's memorable scenes. He's on the fence about National Hangover Day. "Will I be hung over is the question," Riggle said. "I'll be honest guys, it's a 50/50. It's a real roll of the dice. For the past 15 years in a row I think, my New Years Eves have sucked. Do they ever meet your expectations for New Years? No. Anyway, I'm starting to kind of give up on New Years Eve a little bit, but maybe I will rally one more time for this Hangover day. Honestly, it used to be find a big party. Find a big party, it's going to be awesome. Then it turned into let's just find another couple, a small group, we'll all go out to dinner. That was fine. Then it always ended the same thing, just a letdown, kind of disappointment, a lot of people tired about 12:30 going well, let's just go home. This sucks. So I don't know. I have no idea what this year will involve. It could go either way. It could go 'til the dawn or it could end before midnight, before I even see New Year's."
Heather Graham
, the film's hooker/stripper with a heart of gold, will be out of the country for National Hangover Day. She has a skeptical perspective on the whole thing anyway. "Who's declaring that, really?" Graham said. "Is it Warner Brothers? I don't think the government of the United States is declaring it. Everyone's supposed to just be hung over and watch it? Watch it when you are hung over. That's right because it's after New Year's Eve. I'll be in Thailand. I don't know, maybe I'll be hung over. It's kind of like when I was in
Austin Powers
. You do a movie and so many people are like, 'Groovy baby.' That's so weird. It becomes part of what you're saying."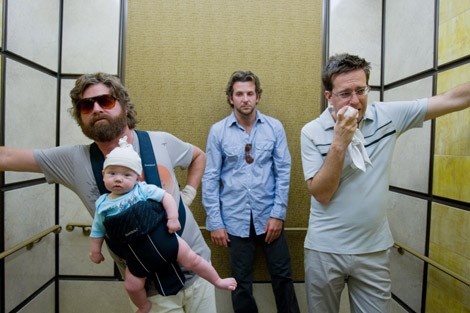 Image © PR Photos
The Hangover is available on DVD and Blu Ray on December 15.
Story/Interview by
Fred Topel
Starpulse contributing writer
(Starpulse in Hollywood)
: Every week, Hollywood's biggest stars are meeting in the hot spots and Starpulse is there.