Get To Know Teen Music Sensation Michael Pollack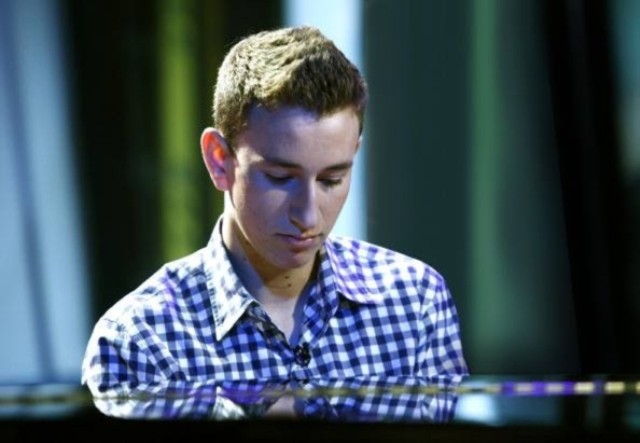 Michael Pollack enjoyed the opportunity of a lifetime when he performed alongside one of his musical heroes, Billy Joel, during a Vanderbilt campus Q&A. Now, the 19-year-old pianist is looking to build on that moment with other opportunities, like opening for X Factor finalist Carly Rose Sonenclar this Saturday night. BFTV recently connected with the young musician to discuss the company he's kept and his own music.
When Billy Joel hosted an event at Vanderbilt University in Nashville, where Michael is studying, he gamely asked the legend if he could accompany him on piano for a performance of "New York State of Mind." The resulting video exploded on the Internet, and garnered Michael nationwide exposure.
Here's the video of Michael performing with Billy, courtesy of Billy Joel's official website:
It was an amazing way for Michael to jump-start his career. He's since found himself on local news and national TV shows, and now he's opening for Carly Rose. So who is this teenage talent who seemed to come out of nowhere into the public consciousness? He's a young man who just truly loves making music.
"Music really is my life. I can't even put something else next to it as a passion because it wouldn't be fair," he said, adding that "I don't consider myself a professional. I don't know what the validation is going to be for myself. It's always been something I've done because I've enjoyed it and I've loved it."
He released a three-song, self-titled EP in May, including the song "Get Well," which is the track he says is the "fan favorite" to date. Now, he's currently hard at work on material a second EP that will hopefully arrive by the end of the year. "I'm really working on just writing the music right now," he explained, saying that there isn't necessarily a long-term plan for where to go from there. "We're kind of taking this step-by-step approach."
What does Michael feel his newfound audience needs to know about his music? "I think most important is that I center my music around the piano first and I definitely take that inspiration from Billy Joel and new guys like Gavin DeGraw," he told us. "I'm a songwriter as well and that's an important skill. The thing that's always on my mind are the songs themselves. I take songwriting seriously and put in the most time toward it."
That's exactly the right focus for an up-and-coming musician, but at the same time, we couldn't resist asking him about the most memorable things outside of the music that have happened to him since January. "I think the easy number one has to be the performance with Billy. Just being up there and watching the chemistry develop," Michael said. "But other than that, I got to go onto The Jeff Probst Show twice, and Jeff has become a really good friend of mine. Hopefully our careers will cross paths again. The first time I saw myself on TV was a little wild!"
Past all the attention, Michael is your down-to-earth, ordinary teenager. He's still studying at Vanderbilt. He has his favorite TV shows (see: Dexter, sitcoms like The Big Bang Theory, Friends, Seinfeld). He's very hands-on, encouraging fans to reach out to him on Twitter (@mpollackmusic), where he regularly interacts with them and answers their questions. And he's kept his humility, continuing to put in the same time and effort that he's always invested in his craft. He might have sprung up overnight, but he's no overnight sensation.
If there's one thing that's going to keep him on the track to success, it's as simple as the fact that he truly loves what he does. "My real standard is I love making music. And I love the reaction that people have to my music and other people's music," Michael told us. "My goal is to pursue it for as long as I can. I feel like there's such an important connection between people and music." Now, he's making his own connection with music fans nationwide.
Michael takes the stage with Carly Rose Sonenclar at New York's Best Buy Theater this Saturday, August 10. You can also visit his official website (michaelpollackmusic.com) and follow him on Twitter (@mpollackmusic).
(c)2013 Brittany Frederick. Appears at Starpulse with permission. All rights reserved. No reproduction permitted. Visit my official website and follow me on Twitter at @tvbrittanyf.