Get To Know: Teen Music Sensation Conrad
"Music has always been my vice," Conrad told us in a recent interview. "It's always been part of my core and who I am."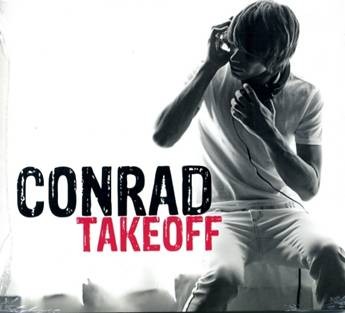 The teen pop singer is currently celebrating the release of his debut album, Takeoff, which dropped last month and has led to his sound being compared to that of Justin Timberlake. It's an accomplishment for Conrad, who moved to Southern California with only 40 dollars to his name in order to pursue his musical aspirations.
"I knew it wouldn't be easy, but nothing in life that's worth doing is easy," he said. "I've been through a lot on this journey, but it's made me who I am, given me great things to write about, and makes me remember who I am at the end of the day. I am going to have an amazing book one day, that is for sure!
"It's what I've wanted to do since I was seven years old," he continued, explaining what inspired him to take the leap. "It's not so much about making money off my music, it's more about just being allowed to be myself and do what I love. I love everything about music and it's always been my therapy for whatever is happening in my life."
Since his arrival in Los Angeles, "It's all a highlight," he said. "I never could have imagined coming from a small town with generally no connections in the entertainment industry. I remember we shot my first music video for [the song] 'Namedropper' in this old warehouse in downtown Los Angeles. After we finished shooting late at night, the crew had packed up all of the lighting and film equipment and everyone had left, but I stayed behind just to soak in what just happened. I was like, 'Wow, I just shot my first music video.'

"One of the biggest highlights, though, would have to be all of the stories people have sent me about how certain songs of mine have helped them get through something thats happened in their life. It makes all of the ups and downs worth it."
So what inspires him to create his music, and how does it come together? "It's really important to me to write honest songs, about what's really going on in my life. So many artists record songs written one hundred percent by other people, and I just feel like you're selling a lie," Conrad explained. "We listen to music to feel connected and that we aren't alone or to be inspired. I want people to know I've been there and its going to be okay.

"When I go into the studio I usually have an idea of what I want to do. We come up with a skeleton track, then I sit down and write the lyrics. After that I meet with some writer friends just to see if they have any ideas on how to improve what I have and make it the best it can be. I then record the vocals and then sit down with the producers and finish building the music around the vocals."
Of all the songs on Takeoff, "'Safe Here Now' is probably my most powerful song," he said. "I wrote it about my good friend's struggle with losing her father to cancer when she was a teenager. That song means the most to me [of the tracks] on the EP."
Looking forward to the future, Conrad added that he has "so many" goals for his career. "I'd love to go on tour and open for a big act, [and] hopefully eventually headline my own tours," he said. "Being in the Billboard charts and American top 40 radio countdown would be amazing."
It bodes well for him that his career is also his passion. His life "pretty much revolves around music," and that includes being not just an artist, but a fan. "I'm a fan of a lot of people, [both] indie and top 40," he said. "So much good music out lately." He enjoys going to "all sorts of concerts" when he's not recording, keeping up with friends, or running on his treadmill.
Another thing that will likely help him in the future is his humility - not to mention his sense of humor. "I'd love for everyone to take a listen to my music if you have a chance," he said. "It's available on iTunes and all those fun music purchasing places. I don't think you can illegally download it yet because I'm just not that big yet, but maybe someday!"
Takeoff is available on iTunes, Amazon MP3 and Conrad's official website. You can also keep up with him via Twitter and Facebook. The video for 'Namedropper' is at the end of this article.
For more from Brittany Frederick, visit Digital Airwaves and follow me on Twitter (@tvbrittanyf).
(c)2012 Brittany Frederick/Digital Airwaves. Appears at Starpulse with permission. All rights reserved. No reproduction permitted.