Get to Know 'Struck By Lightning' Actor/Producer Roberto Aguire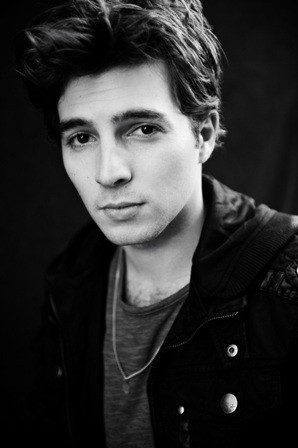 Glee star Chris Colfer's new movie Struck by Lightning makes its theatrical debut today. To get the 411 on the film, BFTV sat down with Roberto Aguire, who has both an acting credit and a co-producer title on the project.
"Chris wrote something extremely special," Roberto said of the movie, which is based on Colfer's book of the same name. "Struck by Lightning is unique in that it speaks to kids, specifically high school kids, on a common ground of understanding. It doesn't talk down to them and that's because Chris gets it and can relate.
"I loved the fact that it was an inspirational story about a guy who despite being put down by his community and being told that he can't succeed by his mother never stops chasing his dream. Kids need to see stories like that more often these days."
As for the actual making of the film, "The most fun part was getting to hang out with the other cast members from the movie, who are all around my age," he continued. "They are such an amazing group of fun, collaborative, and talented professionals that I was not only able to learn so much from them, but I was also able to make a lot of really great friends in the process. Every day that we would be on set, we would have a great time just hanging out, doing what we love to do."
Struck by Lightning is the first major film credit for Roberto, who plays foreign exchange student Emilio. How did he get to working alongside the likes of Colfer, The West Wing's Allison Janney, and Rebel Wilson?
"There came a point sometime during high school when I started thinking about exploring acting as a career, but it was more of an intention than an actual decision," explained the actor, whose favorite flicks include Good Will Hunting, Gladiator and Airplane. "I was very interested in a lot of different subjects, but every time I envisioned myself actually pursuing one as a career, I always ended up thinking that I would rather be acting.
"The moment when I finally made the decision to push full steam ahead with it, though, was when I got into NYU. I decided that if I was going to invest four years of my life into studying the craft of acting, then I was going to throw my hat in the ring and try to make it."
He has an interest in other parts of the filmmaking process, but "For the moment I'm going to put producing on the back burner and concentrate on my acting career," he continued. "It's so much work and such a huge responsibility to do both that I'd rather switch all my focus to what I am most passionate about, which is acting. Later down the line, I'm sure I'll get back into producing, and who knows, I might even try my hand at directing!"
With the movie now behind him, Roberto is looking towards a bright future in the business. "The most important thing for me is to continue to impact people through my work," he said. "I think actors have a huge responsibility because of the vastness of their outreach.  I am a big believer of the good that film, television, and theater can do and I want to be a part of that. Throughout my career I want to keep telling amazing stories and inspiring people."
His own inspiration comes from close to home. "My grandmother is one of the biggest inspirations of my life. She was my biggest fan and she made sure everybody knew it," he added. "Her never-ending joy was infectious and there wasn't anyone who could beat her at partying and having fun. She was dedicated beyond belief to her family, and even if you weren't related to her by blood she made you feel like you were. Every day I strive to be a little bit more like her."
If you don't catch him acting, you might catch Roberto learning a new language. "I love languages! I really am a little bit of a geek when it comes to them," he said. "I love exploring other cultures through the languages they speak. Whenever I go visit another country, I always try to start learning the language before anything else. It's the best way for me to begin understanding the people and the place itself. I'm aiming to learn as many as my mind can handle before it explodes. I'm on my fifth one right now - Chinese!"
What advice would Roberto give to viewers who check out Struck by Lightning this weekend? "Enjoy every day to the fullest, don't worry about where life is taking you, and stay away from thunderclouds."
Struck By Lightning is in theaters now and also available on VOD through sources including Amazon. You can also keep up with Roberto on Twitter (@RobAguire) and on Facebook.
For more from Brittany Frederick, visit my official website and follow me on Twitter (@tvbrittanyf).
(c)2013 Brittany Frederick. Appears at Starpulse with permission. All rights reserved. No reproduction permitted.