Get to Know 'Girl vs. Monster' Star Olivia Holt
Olivia Holt has been busy...saving Halloween. She's the star of the Disney Channel original movie Girl vs. Monster, which premiered last night and is reairing throughout October (see a list of air dates and times here). When she's not fighting monsters, she's one of the stars of Disney XD's original series Kickin' It. Olivia recently talked with me about staying down to earth even when you're handling things out of this world.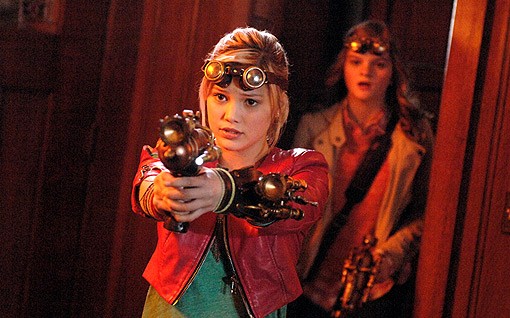 "The whole filming experience was really cool," she said of making Girl vs. Monster, in which she stars as Skylar with some help from fellow young actress ​Katherine McNamara. "Being able to film on every set...We had so many fun times. We would do this one scene where I release all of the monsters, and we had sparks flying everywhere and all I was doing was screaming!"
As for how she got the part, "It was funny, because they gave me the script and they were like, 'Olivia, let us know what you think about this.' When I read the script I was like, 'This script is so good!' I thought it was really cool. I went into the audition and told them how much I loved the character."
While she doesn't yet know what she's going as for Halloween herself, something Olivia does know is how to balance being a Disney star with being Olivia Holt. "It's definitely challenging [but] I manage to do it," she said. "My family loves to take me out and we do regular things like go to the movies. My friends do that as well. At the same time, I love work and I want to be busy all the time!"
"Ever since I was really little, I loved performing and being up on stage, and being the entertainment. My voice coach brought me out to a convention in California and I found my agent through that," she explained. "I ended up booking my first role in a Hasbro commercial." Yet Olivia's parents didn't uproot the family from Tennessee right away: "We ended up going out to California every summer and we did this for four or five years." The hard work eventually paid off, as she booked the lead role of Kim in Kickin' It last year.
What would she like to see in her future? "I'd love to work with Reese Witherspoon," she added. "She has been a huge inspiration of mine for the longest time. She's so talented and if I got to work with her it'd be a dream come true."
Although she is still in the early days of her career, Olivia is approaching show business with maturity; she knows that it's not always going to be fun. "Being in this business, sometimes you have to deal with more nos than yeses," she said. "I kind of have to learn that sometimes you get shot down. I always set a goal in my mind of staying positive."
And there are parts of being a young actress that are definitely great: "I think that it's really incredible, growing up and being able to have all these people who really look up to the work that I do," she continued. "It's really cool that I have such awesome fans and I can't thank them enough. I get on my Twitter and Facebook every day and I see such awesome things." You can find Olivia on Twitter at @Olivia_Holt.
Girl vs. Monster airs throughout October on Disney Channel; Kickin' It airs Mondays on Disney XD. Check your local listings for times and channel numbers.
For more from Brittany Frederick, visit Digital Airwaves and follow me on Twitter (@tvbrittanyf).
(c)2012 Brittany Frederick/Digital Airwaves. Appears at Starpulse with permission. All rights reserved. No reproduction permitted.