Get to Know 'Girl vs. Monster' Star Katherine McNamara
"I always say I found acting backwards," said Katherine McNamara, the co-star of the upcoming Disney Channel movie Girl vs. Monster, who will also be appearing in tonight's episode of Glee. "Up until I was about 12, I was a ballet dancer and a basketball player." That changed when she performed in a play directed by a family friend: "The moment I hit the stage on opening night I absolutely fell in love with acting."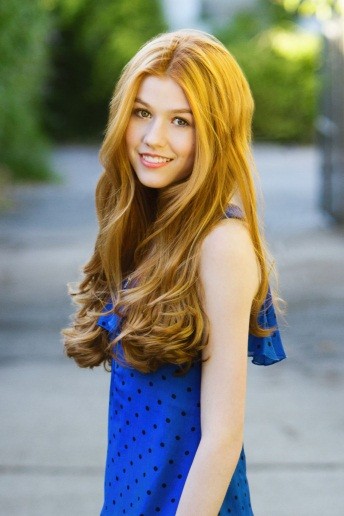 Originally from Kansas City, Missouri, Katherine has excelled at the balancing act that faces every young actor or actress: managing a career while keeping up with education, friends and family. She graduated high school at the age of 15 and is now pursuing an online degree in Business from Drexel University. What has she learned from her experience to date that she would pass on to other teenagers who aspire to become actors and actresses?
"One thing is you always have to have a sound sense of morality and who you are," she advised. "It's so easy to get distracted and sort of go down the wrong path in this business. Surround yourself with good people and stay focused on your goal." But it's not all work and no play: "The most important thing is to have fun!"
"I see each project as an opportunity to grow as a person and as an actor," she continued, explaining what she looks for in each role. "If it's a different kind of role, or sometimes the story is just so compelling, or there's an aspect of the project - I'm the type to really challenge myself."
Something that also stands out for her are projects with a positive message, such as her upcoming Disney Channel movie Girl vs. Monster (premiering October 12 on the cable channel). Katherine plays Myra in the television movie jam-packed with "action and adventure and special effects," which is centered around the character of Skylar (played by Olivia Holt), who accidentally releases a monster on Halloween. Where other actresses might talk exclusively about their role, Katherine's focus is on what she hopes viewers will take away from the film. "I really love the message of this movie," she said, "It's okay to have fear - we're all human, it happens - but in facing your fears, you can really open yourself up to things you never thought possible."
"There's a bunch of projects I've done that I'm really excited about," she continued. "Another one I just finished filming is called The Contest. It's all about bullying and it sort of touches on all different facets of bullying. They kept it at a PG-13 rating, so families can discuss those issues." The Contest is scheduled to be released in Summer 2013.
Katherine will be continuing that project's positive message through her own charitable work with Stomp Out Bullying "to help spread awareness about bullying and help kids know the true ramifications," she explained. "It's something that absolutely needs to change about our society." For more information, you can visit the Stomp Out Bullying website; other celebs involved with the cause include America's Got Talent host Nick Cannon, musician Lance Bass, and Private Practice actor Taye Diggs.
Also next year, Katherine will be seen playing Becky Thatcher in Tom Sawyer and Huckleberry Finn, opposite Joel Courtney as Tom Sawyer and Jake T. Austin as Huckleberry Finn. "We just had the most phenomenal time," she gushed. "All three of us had such a connection."
With her whole career ahead of her, Katherine has a long list of aspirations as well. "I love to do everything," she said. "I'd love to do an action film. I'd love to do a film based on a book series; I love to read the book and then go see the movie. I'd love to have a show on Disney; I love working for them. And I'm also working on getting some new music out of my own," she added - she's a singer-songwriter who plays both guitar and piano.
Who are some of her favorite actors and actresses? "I'm a huge fan of Viola Davis. I think she's absolutely brilliant and one of the most amazing people and actresses that I know," Katherine said, "I also love Emma Stone - who doesn't love Emma Stone? I think she's really unlimited as to the kind of films she can do." On the flip side, she also appreciates a number of talents from the past, including but not limited to Audrey Hepburn, Rita Hayworth, and Bing Crosby.
Katherine also had a message for her fans: "I just want to say thank you to all the people who've been supporting me for so long," she said. "I've been working a lot, but not a lot of projects have come out yet. I'm so grateful." Starting with tonight's Glee episode and next month's Girl vs. Monster premiere, now you can get to know Katherine.
You can follow Katherine McNamara on Twitter (@Kat_McNamara) and visit her Facebook fan page. For more from Brittany Frederick, visit Digital Airwaves and follow me on Twitter (@tvbrittanyf).
(c)2012 Brittany Frederick/Digital Airwaves. Appears at Starpulse with permission. All rights reserved. No reproduction permitted.