Get To Know Fitness and Lifestyle Expert Alanna Zabel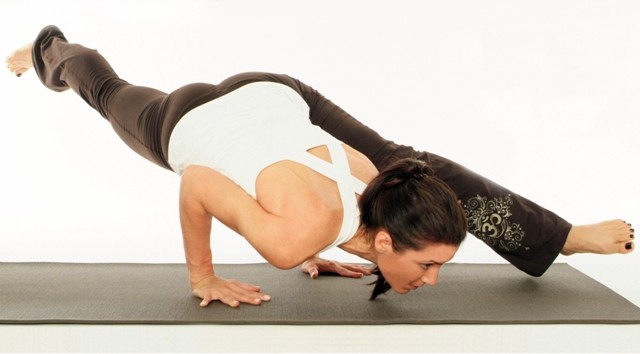 Alanna Zabel has turned living well into an entire lifestyle brand. Under her AZIAM banner, the Buffalo native is not only a successful yoga instructor - whose clients include BFTV favorite Adam Levine - but she's also launched a line of activewear, written books, and has her own DVD. Alanna's latest book, As I Am: Where Spirituality Meets Reality, is an exploration of spiritual concepts. BFTV spoke with her recently to talk about its contents and how she judges her success.
"I started teaching dance and fitness when I was 16. I've always kind of had that niche," said Alanna, who had originally studied at Oxford University and in New York to become an actress. But when she moved to Los Angeles, she found her life heading down a different path. It's that openness to experience that is now a major part of what she teaches. "I'm the accidental everything," she said. "I am in awe of the flow of my life that I don't push or plan."
"I don't think that we should have such clear objectives. I'm more into energy or feeling," she added. "That's what As I Am touches upon. How do you start hearing what is organic and who am I?"
In As I Am, Alanna covers various spiritual concepts in what is described as "a realistic, psychological and scientific manner," including a twenty-one-day program of daily self-awareness and self-discovery. With so much to think about in the book, we asked her if there are particular parts that she was most proud of.
"I really like how I break down the four factors that contribute to one's dharma. it's completely original content that no one's ever heard before. I love that and I think that's crucial to just get the basic four elements," she told us. "And also, I really like the [personal] stories, how they represented the synchronistic moments of my life. I think that helps people to then turn the mirror at themselves."
The book is just one of Alanna's many accomplishments. Foremost among them is AZIAM Active Wear, a full line of fitness clothing that, again, wasn't specifically in her plans.
"My teacher in India, Pattahbi Jois, his consultant asked me if I could create a sample collection for him and his studio that they were going to open," Alanna explained. "My client at the time was Kym Gold, who had co-created True Religion Brand Jeans, and Kim really helped me. Watching her passion for putting together clothing, she's just so talented. She helped me put together the first collection."
But while that initial collection was well-received, Jois became very ill three months later, and eventually passed away. Left with the samples she'd created, Alanna launched AZIAM Active Wear.
With so many business interests, her life is incredibly busy, but Alanna has found the balance to make it all work. Asked how she manages everything, she explained, "My lifestyle is so different than most people that it doesn't accumulate the same amount of stress."
"I still teach full-time," she said, walking us through an average day. "And then I'm already in the car, so I'll go downtown to my factory, because I manufacture everything in LA. Then [I] make phone calls, emails, try to have a little downtime, or practice myself, and then I typically teach again in the afternoon or evening."
As you might expect for someone whose career revolves around bettering people's lives, commercial success isn't what drives Alanna. "I didn't come from 'Let's make a profit and move on,'" she told us. "It's not about cost. I want someone to feel amazing in this, I want them to be inspired by it. I also give back to several different organizations, like the Joyful Heart Foundation. That's what inspires me way more."
And she has used that inspiration to the fullest. Whether it's through her many business ventures, or simply leading by her positive and outgoing example, Alanna is certainly doing her part to make the world a better place.
You can pick up a copy of Alanna's new book, As I Am: Where Spirituality Meets Reality, now. You can also find out more about her and the AZIAM brand by visiting her website (aziam.com) or following her on Twitter (@alannazabel).
(c)2013 Brittany Frederick. Appears at Starpulse with permission. All rights reserved. No reproduction permitted. Visit my official website and follow me on Twitter at @tvbrittanyf.