Get 'The Box' on Blu-ray, DVD & Download On Feb. 23

Screen siren
Cameron Diaz
and former X-Man
James Marsden
star in the supernatural horror picture
The Box
, directed by
Donnie Darko
cult fave Richard Kelly.
The film's premise involves a strange and ominous box granted to a young couple by a mysterious stranger (
Frank Langella
). They are informed that pressing various buttons on the box will grant them riches while killing a person unknown to them in the process. Executive produced by Ted Hamm, the film was adapted by Kelly from Richard Matheson's 1970 short story "Button, Button."
Check out the official website
HERE!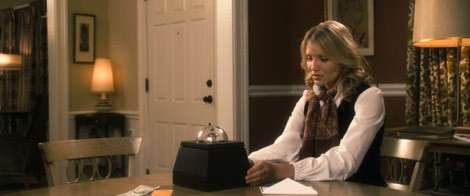 Image © Warner Bros