Get Ready For The Next Exciting Chapter Of 'The Mummy' Adventure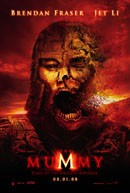 The blockbuster global Mummy franchise takes a spellbinding turn as the action shifts to Asia for the next chapter in the adventure series,
The Mummy: Tomb of the Dragon Emperor
.
Brendan Fraser
returns as explorer Rick O'Connell to combat the resurrected Han Emperor (
Jet Li
) in an epic that races from the catacombs of ancient China high into the frigid Himalayas. Rick is joined in this all-new adventure by son Alex (newcomer
Luke Ford
), wife Evelyn (
Maria Bello
) and her brother, Jonathan (
John Hannah
). And this time, the O'Connells must stop a mummy awoken from a 2,000-year-old curse who threatens to plunge the world into his merciless, unending service.
Doomed by a double-crossing sorceress (
Michelle Yeoh
) to spend eternity in suspended animation, China's ruthless Dragon Emperor and his 10,000 warriors have lain forgotten for eons, entombed in clay as a vast, silent terra cotta army. But when dashing adventurer Alex O'Connell is tricked into awakening the ruler from eternal slumber, the reckless young archaeologist must seek the help of the only people who know more than he does about taking down the undead: his parents.
As the monarch roars back to life, our hero finds his quest for world domination has only intensified over the millennia. Striding the Far East with unimaginable supernatural powers, the Emperor Mummy will rouse his legion as an unstoppable, otherworldly force...unless the O'Connells can stop him first. Now, in
The Mummy: Tomb of the Dragon Emperor
, the trademark thrills and visually spectacular action of the
Mummy
series will be redefined for a new generation.
The Mummy: Tomb of the Dragon Emperor
is helmed by director Rob Cohen (
The Fast and the Furious
,
xXx
) and written by Alfred Gough & Miles Millar (
Spider-Man 2
, television's
Smallville
). Reprising their roles as producers in the series are Bob Ducsay, Sean Daniel, Stephen Sommers and James Jacks.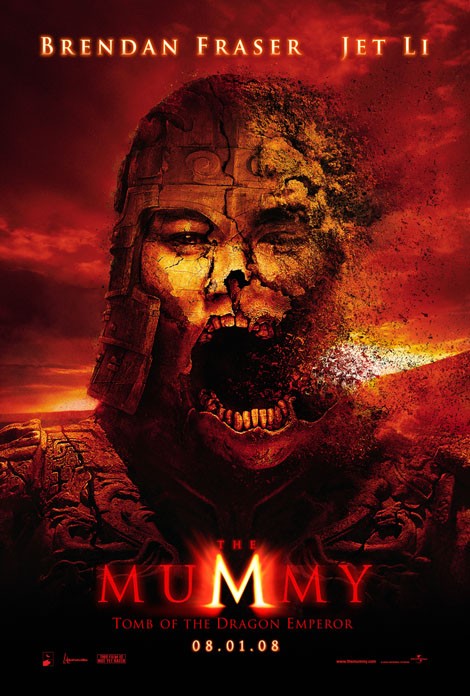 Check out the NEW official movie website at
http://www.themummy.com
and keep up to date with all things Mummy:
- "The Mummy" Sweepstakes! – enter for a chance to win a VIP guest package to Universal Orlando or Universal Studios Hollywood!
- Watch the trailer, video clips from the film, and behind-the-scenes coverage!
- View, send, and save photos from the set!
- Download icons, wallpapers, screensaver, and even a poster!
- Learn more about the film, story, and cast!
Director Rob Cohen's production blog also contains plenty of updates and features to hold over even the most excited
Mummy
fan! Check it out at
http://www.robcohenthemummy.com
!
Also, keep an eye out for the following launches in the upcoming weeks:
- Chariot Chase Down game
- Scrolling timeline of China
- Four interactive locations – Museum, Shangri-La, Yeti Mountain, and Han's Tomb
- Dragon Emperor's Challenge on AOL
The Mummy: Tomb of the Dragon Emperor
charges into theaters on August 1, 2008!
More about "Tomb of the Dragon Emperor":
-
Starpulse Page
-
Official Site
-
Director's Blog
-
Read why Rachel Weisz wouldn't reprise the role of Evvy
-Director Rob Cohen
wasn't too happy that Weisz didn't return
, however star Brendan Fraser
praised Maria Bello for her performance