German Filmmaker Bernd Eichinger Dies At 61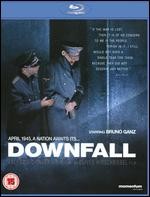 Oscar-nominated German movie producer Bernd Eichinger has died in Hollywood. He was 61.

The man behind acclaimed films like Downfall and The Baader Meinhof Complex passed away after suffering a heart attack on Monday.

His credits also include The Name of the Rose, the Resident Evil films and The Fantastic Four.

Many consider Eichinger to be Germany's most successful moviemaker.

Eichinger is survived by his wife Katja and daughter Nina, a well-known German TV personality.