Gerard Depardieu Loves Slaughtering Animals & Eating Pate With Fidel Castro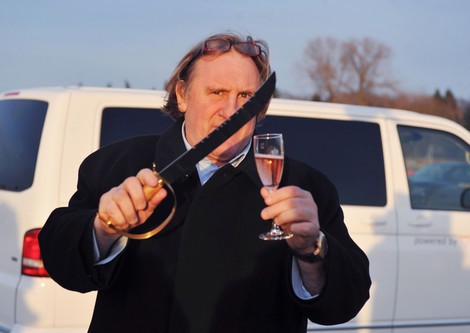 Animal rights activists have launched a furious broadside at veteran actor Gerard Depardieu after he confessed he "loves" to slaughter livestock for food.
 
The French star has risked controversy by revealing he enjoys killing animals to cook in his kitchen, and only struggles with pigs because they remind him of a pet dog.
 
In an interview due to air on Friday, he tells U.K. talk show host Graham Norton, "I love meat and I love animals. I love to kill something and make a good dish and share it, like love. I am always nice with the animals. But the only animal that is hard to kill is a pig because they are like dogs."
 
But his comments have infuriated officials at People for the Ethical Treatment of Animals (PETA), who have branded the star "callous" and taken a swipe at his portly figure and the infamous incident last year when he was caught urinating in the cabin of a plane.
 
A PETA spokesman tells WENN, "Thank God he doesn't show his love for his daughters in the same way that he does to other living beings. It takes a callous soul to be able to look into the panic-stricken eyes of an animal facing death and then casually slit his or her throat.
 
"One look at him and you can't miss that his stomach rules his head and heart: even his conduct on an airplane shows he surrenders to his bodily urges without consideration for others. Gerard Depardieu could ease his conscience, if he has one, and reduce his waistline and risk of a heart attack simply by choosing Fakin' Bacon and Sham Ham, which taste similar to real pig flesh but are 100 percent humane."
In the same interview, Depardieu revealed the roots of his bizarre friendship with former Cuban leader Fidel Castro - they bonded over a shared love of pate.
The actor has been pals with the revolutionary for 20 years and traveled to the Caribbean island republic in 2006 to attend his lavish birthday party.

Depardieu, who has even invested in an oil field in Cuba, has now opened up about the unlikely partnership, insisting he loves hunting with Castro and younger brother Raul.

The actor said, "I met him (in) 1992 when I made him pate. He loves to eat also, and is very curious about food. He is a friend and I go hunting with him and with Raul. They know everything about everything and they are normal people."