Gerard Butler Latest Star To Be Targeted By Hackers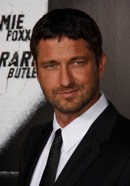 Scottish actor Gerard Butler has become the latest star to be targeted by internet hackers who have allegedly tapped into his personal email account.

Both Miley Cyrus and Twilight actress Ashley Greene have already been victims of the group, dubbed Hollywood Leaks, with members claiming to be an offshoot of cyberhacking body Anonymous.

Cyrus was left fuming in 2008 when the group hacked into her email account and posted saucy pictures of her online.

Now 300 star Butler has become the latest victim, according to Britain's Daily Star Sunday, with hackers reportedly posting details of his private Google Mail account on the web.

A voice message, which was disguised with a synthesizer, was left by the group online on Saturday, with the warning, "Attention Hollywood. Unfortunately for you this is just the beginning, the lols (laugh out louds) will keep rolling and the leaks will keep coming. Our targets are as numerous as the sands of time. This is for you, for the people."