Georgie Henley Injured In 'Narnia' Sword Fight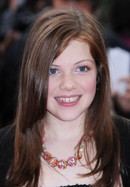 British actress Georgie Henley had a tough time on the set of The Chronicles Of Narnia: The Voyage Of The Dawn Treader - she was hospitalized after she was hit in the face with a sword.

The teenager was filming a fight scene for the upcoming fantasy movie when one of her assailants accidentally struck her with a weapon. Henley was left with a black eye and a swollen cheek - and producers had to use make-up to hide the bruise, and camera tricks to "reshape" her face.
She tells Britain's You magazine, "The worst thing happened in a sword scene in which I had to fight off four grown men. We had almost got it right on the first take but the camera missed an important bit where I kick one of the men in, er, a not-so-very-nice-place, and they wanted me to do it again."

"So we did it, but then I forgot that I was supposed to duck and one of the men's sword handles hit me. I had to go to accident and emergency - I had a black eye and massive swelling on one side of my face. We had to continue shooting the next day, so they applied tons of make-up and digitally reshaped my face!"