George Lopez Will Move To Canada If Sarah Palin Becomes President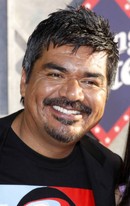 Comic-turned-TV presenter George Lopez has vowed to banish himself to Canada if Sarah Palin ever becomes president of the United States.

The former Alaskan governor previously ran for the vice-president position during John McCain's Republican bid for the White House in 2008, and became a controversial figure due to her right-wing stance and apparent lack of foreign affairs knowledge.

Palin has not ruled herself out of potentially running for the top job next year, but Lopez, who is a Democrat and longtime campaigner for Latino rights, is adamant he will move north if she ever is made leader of the U.S.
He tells Piers Morgan Tonight, "If Sarah Palin becomes president at any point, I would say 'allegedly', I will move to Canada. I will go further north. I've been south but I will go further north. I will leave the United States of America."
"I like my politicians to actually have a political background."