George Harrison's Son Dhani Found Documentary About The Late Beatle Tough Viewing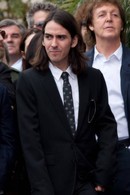 George Harrison's son found it difficult to watch Martin Scorsese's new documentary about the Beatles legend, because it was like watching his life repeated on the big screen.

George Harrison: Living in the Material World opened at Spain's 59th San Sebastian Film Festival last month and gets its British launch at Liverpool's Foundation for Art and Creative Technology (FACT) on Sunday.

The project, which was fully supported by Harrison's widow Olivia, documents the late star's rise to fame and his life as one-quarter of the Fab Four, and features interviews with former bandmates  Paul McCartney and Ringo Starr, as well as John Lennon's widow Yoko Ono.

The film also features the more traumatic aspects of Harrison's life, including the notorious knife attack by an intruder at his English home in 1999.

And Dhani Harrison, who also collaborated on the film, insists reliving those occasions made it hard to watch for the Harrison family.

He says, "It's really heavy for me. I already lived it, so it's like watching your life fed back to you through the eyes of Scorsese, which is weirder than living it.

"We've been working on it for more than five years now. My advice is not to plan anything after watching it. Have a nice evening off."