George Hamilton's Rep Denies Skin Cancer Reports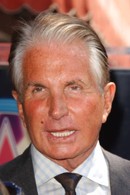 Hollywood veteran George Hamilton is playing down reports suggesting he's secretly battling cancer, insisting he is just suffering "a little skin damage."

The National Enquirer claims the famously-tanned actor, 72, was recently diagnosed with the disease and allegedly underwent surgery in New York last month to remove cancerous cells on his ear and forehead.

However, Hamilton is said to have encountered further health troubles as he recovered from the operation and was taken by ambulance to the Big Apple's Lenox Hill Hospital on July 30th to treat a popped suture.
A source tells the publication, "He was bleeding profusely... He spent four days in the hospital and was released."

Nonetheless, the surgery is thought to have been a success and the Love at First Bite star will not require further intensive treatment. The insider adds, "Doctors say he will not need chemotherapy or radiation and should recover well."

Hamilton has since returned to work, rehearsing for an upcoming U.S. tour of hit Broadway musical La Cage aux Folles.

A spokesperson for Hamilton says, "It's true, George did have medical procedure to deal with some skin damage, but nowhere as serious or dramatic as Enquirer reports. They do tend to exaggerate."