George Clooney Starts Campaign To Support The Real 'Monuments Men'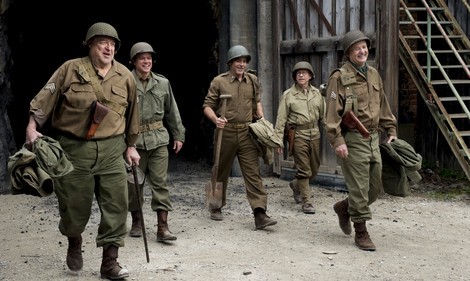 After producing a movie about the World War II group The Monuments Men, George Clooney has started a campaign to continue their efforts of finding art stolen or otherwise lost during the war.
The website, SupportTheMonumentsMen.com, is asking the public for information on where lost works of art can be found. It is also hosting a petition to give members of the program The Congressional Gold Medal, one of the highest civilian awards in the United States.
During World War II, the Monuments, Fine Arts, and Archives program was founded to safeguard cultural monuments threatened by the ongoing war in Europe. Over 400 service members worked with the MFAA, which became known as The Monuments Men.
Robert Edsel wrote a book on the group in 2009, which was then optioned for Clooney's film. Edsel was also involved with the production of the film. He tells the Huffington Post, "They were eager to hear to my comments and recommendations throughout the creative process and during filming. We didn't always agree, but they always heard me out. They welcomed me on set numerous times and afforded me the chance to bring my team of researchers, who have worked tirelessly gathering the history of these men and women. For that I remain extremely grateful. Both George and Grant [Heslov, director] have worked passionately and diligently to understand this untold part of history, and then find a way to tell this epic story in their own voice on screen. Making this film was an enormous undertaking and, now that it is finished, a great achievement."
The film, which stars Clooney alongside Matt Damon, Bill Murray, John Goodman, Jean Dujardin, Bob Balaban, Hugh Bonneville, and Cate Blanchett, is due in theaters February 7.