George Clooney & Stacy Keibler Reportedly Split Up After Two-Year Romance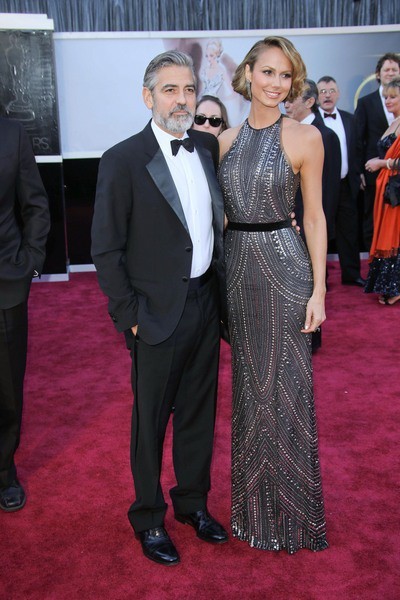 If you're a celebrity and you spend a holiday without your significant other, then of course your relationship is on the rocks! According to several reports, George Clooney and Stacy Keibler have broken up.
Rumors of a split surfaced last week after the actor, 52, was photographed on Independence Day near his villa in Lake Como, Italy, sans Keibler, 33. Where was she? At a party in Los Angeles. She is working on promoting her upcoming Lifetime game show "Supermarket Superstar," so maybe that's why they weren't together? Maybe the whole thing is a PR ploy?
Not so, says People magazine. The couple allegedly parted ways several weeks ago, but the split was amicable.
"Stacy called it quits. She wants to have children and a family someday. She knows where George stands on that...," a source told People. "They talk every day. They were friends before they started dating and they'll be friends after. It was a friendly (break-up)."
Clooney has famously said he will never get married again. The actor has been a serial dater since 1993, when he split from his wife of four years, Talia Balsam. He began dating Keibler in 2011 shortly after calling things off with Italian beauty Elisabetta Canalis.
His sister Adelia Zeidler is convinced he won't walk down the aisle for a second time because he's too committed to his career.  Last fall she told the New York Daily News, "I would say he probably will not get married... If he was going to get married he would want to be a husband and be somebody who would be there, who would have the time and the ability to focus on the family and the home and all of that. And in the business that he is in, he has to be able to get up and go."
Clooney's actor cousin Miguel Ferrer said in 2007: "He's been married once before and swears he'll never do it again. So many people wind up with children or getting married who have no business doing it. He knows himself well enough to know that's not what he wants in his life. He's got to trust himself."