George Clooney Could Be Called To Testify At Silvio Berlusconi's Trial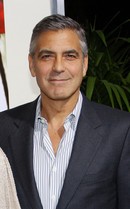 George Clooney faces a court appearance at former Italian Prime Minister Silvio Berlusconi's sex trial if attorneys get their way.

The actor and soccer star Cristiano Ronaldo could be called as witnesses, court officials announced on Wednesday.

Prosecutors allege Berlusconi, who resigned from office earlier this month, paid for sex repeatedly with underage prostitute Karima el Mahroug and then abused his power by trying to get her out of jail following a theft arrest.

El Mahroug maintains she never had sex with Berlusconi and that she lied to him about her age.

Clooney and Ronaldo are on the witness wish list because they attended parties thrown by Berlusconi.

His lawyer, Niccolo Ghedini, hopes testimony from the celebrities will show the former leader's house parties were anything but the wild sex bashes reported by the media.

He says, "They will say what really happened at Berlusconi's house."