George Clooney And Stacy Keibler Show Up To The 'Argo' Premiere Together Amid Split Rumors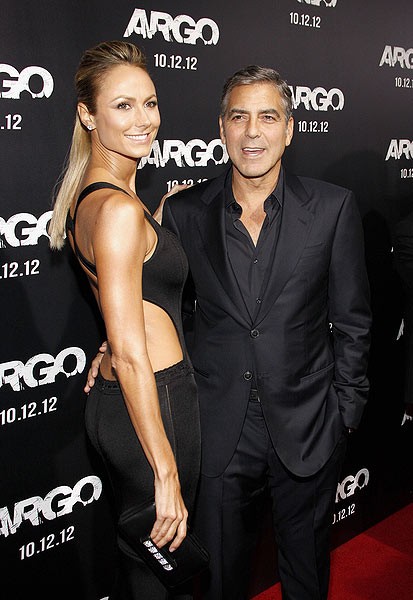 Those reports earlier this week that George Clooney and Stacy Keibler's relationship is on the rocks are apparently untrue. Rumored to be heading for splitsville for a few weeks now, the couple dazzled at the premiere of Ben Affleck's new film Argo Thursday night, holding hands and putting their arms around each other most of the time. If their relationship is in trouble they sure are fooling us!

Last month Clooney's rep told UsWeekly.com that a report in British tabloid The Sun wasn't true.

"A story published by a London tabloid, The Sun, concerning George Clooney and Stacy Keibler [is] not true," the rep said.

And despite the recent rumors of trouble in paradise, the current issue of Life & Style magazine reports that Stacy has moved into George's Los Angeles home.

An insider tells the magazine, ""She's 100 per cent moved in... she spends her summers at Lake Como in Italy (where George has a summer home) and all her stuff is at his place in Los Angeles."

"All her clothes are at George's, and she never goes home," the source adds.

The couple, looking happy together, joined the joining the likes of the film's director and star Affleck and wife Jennifer Garner, along with Argo stars John Goodman and Bryan Cranston.

The film's premiere was held at the Samuel Goldwyn Theater in Beverly Hills, Calif. Clooney produced.