George A. Romero Laments Lack of Enthusiasm for 'Bruiser'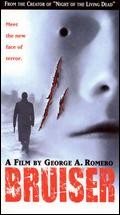 Horror veteran
George A. Romero
is disappointed one his proudest efforts remains largely ignored. The
Dawn Of The Dead
creator insists
Bruiser
, a film he made in 1998 after several failed Hollywood deals, is one of his best works despite the fact hardly anyone has seen it.
He says, "Out of frustration I basically fled in 1998 and sat down and wrote a little film called Bruiser that no one has ever seen and people don't get. I love it and I'm very proud of it. Hopefully someday somebody will notice it and say, 'Hey, this ain't bad.'"
Bruiser sees cowardly businessman Henry Creedlow, played by
Jason Flemyng
, wake up one day to find his face has been replaced by a featureless white mask. Liberated by his anonymity, he sets out on a bloody trail of revenge on every person who has ever wronged him.