Gene Simmons: 'We're Talking With Angry Birds'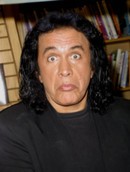 Kiss are in talks with bosses behind hit video game Angry Birds to develop a rock spin-off.

Angry Birds has taken off as one of the best-selling apps on the gaming market, and now the face-painting rockers want to join in the fun by releasing their own special edition version.

Kiss frontman Gene Simmons tells Industry Gamers, "We're talking with Sony Games now. We are really trying to take it in areas that haven't been done before and have stayed out of the marketplace because the ideas simply weren't exciting enough."

"So while the gaming world is waiting for the KISS games that are going to explode, we're busy taking the brand to places where no brand has gone before..."
"We're talking with Angry Birds, KISS and Angry Birds, which will become a deal."