Gene Simmons & Sharon Osbourne End Bitter Feud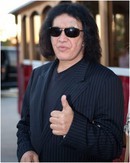 Rocker Gene Simmons and Sharon Osbourne have ended their long-standing family feud after the KISS frontman apologized for a past hurtful tirade on live TV.

Simmons and Ozzy Osbourne's manager/wife have been locked in a bitter war of words for years after he publicly criticized her husband and their two children, Kelly and Jack, over their drug problems.

So when Simmons appeared as a guest on Osbourne's TV show The Talk on Monday, Osbourne took him to task for his remarks.

She said, "Many, many years ago when you first started (the reality TV show) Gene Simmons Family Jewels, it was reported that somebody said, 'Isn't it like The Osbournes?' And you said, 'No, because my kids aren't on drugs.'

"So I came back with a rebuttal. And then there was something printed in the Kiss magazine about (how) there should have been a disclaimer at the beginning of The Osbournes (TV show) that says, 'People shouldn't drink otherwise you'll end up like Ozzy Osbourne.'"

Fighting back angry tears, Osbourne added: "And you said he was sad. And I don't think my husband is sad. So there we go."

Simmons took the heat and responded, "Rightfully so. Any mother should defend her family. I don't remember saying those things. If I did, I was way out of line, your family is your business and no one has any right to say anything about them."

Osbourne accepted his apology on behalf of her family and said: "Thank you. Point taken."