Gene Simmons Sets Wedding Date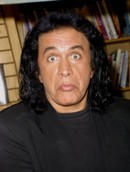 Rocker Gene Simmons has wasted no time in setting his wedding date to long-term partner Shannon Tweed following his proposal in July - they will exchange vows next month.

The Kiss frontman has lived with the model since 1985 and they are parents to 22-year-old son Nicholas and 18-year-old daughter Sophie. Simmons' proposal was played out on reality TV show Gene Simmons Family Jewels, and now the pair has just weeks to plan its nuptials after announcing the wedding will take place in Los Angeles on October 1st.

Their wedding invite states, "Sophie Alexandra Tweed-Simmons and Nicholas Adam Tweed-Simmons cordially invite you to the wedding of Shannon Tweed and Gene Simmons."

And a note from the pair's children poking fun at the couple's tumultuous relationship was also included with the invitation.

It reads, "After 28 years of loose strings, our parents have finally decided to tie the knot. Our mother will share our horrendous hyphenate of a last name and our father's life... well, it doesn't change that much. But we will be united as a family in spirit and in title forever."