Gene Simmons Regrets Recent Behavior Toward Girlfriend Shannon Tweed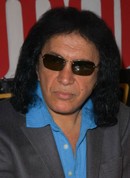 Gene Simmons has accepted blame for upsetting his longtime partner Shannon Tweed after posing for photos with two admirers outside a Los Angeles restaurant.

The couple fell out on TV earlier this week while promoting their reality show Gene Simmons Family Jewels when Tweed criticized her boyfriend for the inappropriate picture, but refused to go into detail about why she was so upset.

She told The Today Show hosts Kathie Lee Gifford and Hoda Kotb the relationship has "pretty much unraveled" over the snapshot, which created drama on their reality show.

In a promotional clip, Simmons attempts to explain that he had no idea who the women were, prompting Tweed to snap, "I'm sick of hearing it, I'm sick of seeing it, and I'm sick of looking at it... Gene, please don't play me for a fool."

Simmons appeared to be remorseful in a series of tweets he posted while watching the season premiere of the show on Tuesday, writing, "Sometimes it takes stepping back and seeing yourself like this to see what missteps you might have made.

"Nothing inappropriate went on at dinner, but I see now that wasn't the point... It was just a photo op. Innocent dinner company. But sometimes my actions have consequences."

And Simmons admitted he felt terrible about upsetting his partner: "I hate seeing her like this. Hurts twice as much when I am the reason."

The rocker even agreed to visit a counselor to help him and Tweed work through their problems, adding, "I hate the idea of therapy but I will do it for Shannon... As much as I hated to admit it at the time, therapy actually made me ask myself some important questions. Maybe that is why I avoided going."

And he concluded his tweeting by confessing it was tough watching the episode: "This was one of the toughest moments of my life. Worst feeling ever. To have brought it on myself as well...foolish... That was tough to watch again."

It is still not clear what upset Tweed about the Simmons photograph.