Gene Simmons: 'I Have Not Endorsed Mitt Romney For President'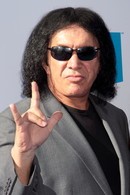 KISS rocker Gene Simmons has fired back at reports suggesting he is endorsing Republican Mitt Romney to replace Barack Obama as America's leader, insisting remarks he made during a TV chat have been taken out of context.

The bassist hinted that he was a fan of Romney's during a Fox News interview earlier this week and he followed that up at press chat at the opening of his new Rock & Brews restaurant in El Segundo, California on Wednesday, but he has since taken to his website to let fans know exactly what his politics are.

On Wednesday, he stated, "America is a business and should be run by a businessman," but now he insists he only meant to suggest that Romney would be a better President fiscally.

Explaining himself on Friday, Simmons wrote, "Comments are often taken out of context and used for incendiary headline purposes. I was quoted on Fox as saying I prefer Gov. Romney only as far as fiscal economic areas are concerned. And I stand by that comment. But I have not endorsed either Gov Romney or Pres Obama.

"It's no secret who and what I am and what I believe in. I am socially liberal. And I am a fiscal and foreign policy conservative. Translation = I am an American. That's my political party.

"I find both parties (Republican and Democrat) lacking in all sorts of areas. And many Americans agree."

And Simmons reveals he voted for Obama at the last election - although a little reluctantly: "Literally one minute before I pulled the lever, I voted for Pres Obama. Though in retrospect, I noticed he only had two years of local political experience and had never run a company. Not the best resume to assume the seat of power of the United States.

"I believe he's a good man. Loves his family. And loves America. But that doesn't mean I agree with his policies.

"The next election is coming up and for some reason, both the left and right of the political spectrum are curious who I will vote for. I have no idea why anyone would be interested in who I would vote for... or for that matter who anyone else would vote for... I have NOT endorsed Gov Romney for President. I have NOT endorsed Pres Obama for another term as President. I DO believe Gov Romney has more qualifications (in fiscal economic areas) than our President. But I have to hear more from both candidates. I HAVE NOT MADE UP MY MIND."