Gene Hackman Hit By Car, Airlifted To Florida Hospital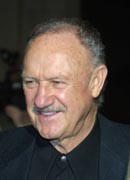 Movie veteran Gene Hackman has reportedly been airlifted to a hospital in Florida after he was hit by a car during a bicycle ride on Friday afternoon.

The French Connection star, 81, suffered serious injuries to his head and body, according to TMZ.com, but he is in a stable condition.

The Florida Highway Patrol is conducting an investigation into the cause of the crash.

No further details were available at press time.