Gene Hackman 'Fine' After Motorcycle Accident In Key West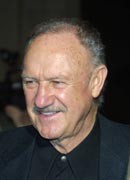 Gene Hackman is back at home following an accident which left him hospitalized.
 
The star was reportedly knocked off a motorcycle in Key West, Florida, on Friday afternoon but early reports about his condition appear to have been overblown.
 
A representative for Hackman says, "He is fine... He was taken to a hospital for routine tests after being bumped from behind while riding his bike today in the Keys. He suffered minor bumps and bruises."
 
Initial reports suggested he had been airlifted to a hospital in Florida with serious injuries to his head and body.