Geena Davis Elected To Chair Gender Equality Commission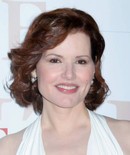 Actress Geena Davis has landed a new leadership role as part of the California Commission on the Status of Women.

The Thelma & Louise star has been elected to chair the non-partisan agency, which promotes equality and advises politicians on issues affecting women in the state.

In a statement to The Sacramento Bee, Davis says, "I am honored to lead the critical work of the Commission to improve the lives of all women and girls in California. It's not just an issue of gender equality; it's also an economic issue. Addressing inequalities is good not only for women, but also for California as a whole."

Gender equality is a cause close to the actress' heart - she founded the Geena Davis Institute on Gender in Media to encourage positive portrayal of women.