Gayle King Facing Lawsuit Over 'Matchmaker Deal'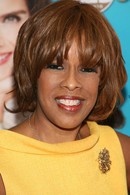 Oprah Winfrey's best friend Gayle King is facing legal action over her alleged failure to land a matchmaker a slot on the TV titan's talk show.

Orly Hadida claims she offered King - a broadcaster and editor-at-large of Winfrey's O Magazine - her matchmaking services for free if she persuaded the media mogul to promote her on her now defunct show.

According to the lawsuit, King was introduced to five men, and Hadida waived her usual $500,000 fee - only for King to reportedly renege on the deal.

TMZ.com reports Hadida tried to contact King when Winfrey's show was coming to an end earlier this year and insisted she wanted to get paid.
Hadida is now seeking compensation.