Gayle Giacomo Of 'Jerseylicious' Talks Exclusively About Season 3
Gayle Giacomo, owner of the Gatsby Salon and star of Style Network's hit show, Jerseylicious, talks exclusively to Starpulse about Season 3, the drama between Olivia and Tracy and the world record they broke at the salon.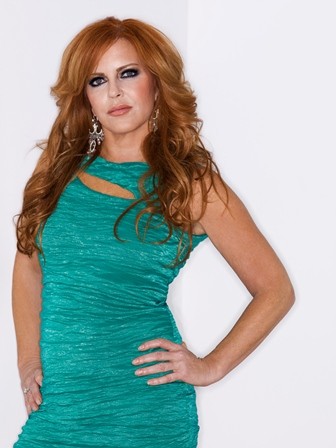 Starpulse: What can we expect on the third season of Jerseylicious?
Gayle: Well, I think it's going to be a lot of drama, a lot of excitement and a lot of new things that are going on with Gatsby. I think it's going to be a great season and everyone is going to love it.
Starpulse: How has the salon's business improved since the show's production? Are there people calling for appointments because they heard of the salon through the show?
Gayle: Unfortunately we do get a lot of prank phone calls and people calling to yell about Tracy and Olivia and that's the unfortunate part. But we have had people coming in to see the salon and everyone who has come in has been very, very nice, so it has been a great experience.
Starpulse: What is it like running a salon while you are constantly under the eye of the camera? Are there any productions tricks or is the salon open with regular customers for the most part during filming?
Gayle: Well the cameras aren't here all the time because I have a staff of 45 people-  I have a very large staff,  so they can't be here on days like that because it would be overwhelming.
Starpulse: Tell me about the new mobile salon business.
Gayle: We have always done brides outside of the salon but now we are doing ambush makeovers where people can do something good and sweet for people in their life who can't afford to pamper themselves. And we are doing "Gatsby to go" where we work events and if they want us to come to their homes or to the actual event we can do that for them.
Starpulse: You had a little spat with Alexa's Glam Fairy business when you found out Olivia was working at both salons, can you tell me about that and the competition between the two salons?
Gayle: For me, I don't feel threatened by Alexa at all. I've been in the business for 33 years; I am very established so the tension is more on Alexa's part. For me, there are a million salons on Route 22 in Green Brook, New Jersey and I don't have tension with any of them. There are enough clients for everyone and if you do good work, you are going to have a great cliental. It is all about giving people great customer service. So for me, I don't really care what Alexa does. I think it's more her and she feels that she owns the 'glam' name- she's a little crazy.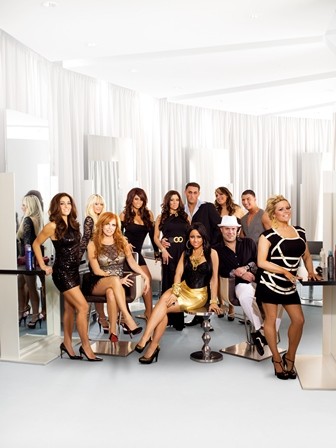 Starpulse: Now we all saw that fight outside the fast food restaurant between Olivia and Tracy- tell me is there constant tension between them at work?
Gayle: I think it's difficult for me but the women and gentleman I have working for me, you know the seasoned stylists, they do not act that way so it is a little difficult for me when I see those girls. I mean I know they are young and unfortunately I think fighting is a very big thing in clubs these days -my niece is their age and it blows my mind what she does. I am trying to mold these girls into young ladies which I am finding difficult but I can't deal with it outside of the salon. As long as they act right in my salon, that's what I care about.
Starpulse: Do you have any special summer Jerseylicious beauty tips for our viewers?
Gayle: Well, I think the biggest thing is you should take care of your hair and use the right products. Just because you go to a great salon and pay top dollar, you're not going to have a good style unless you use the right products. That's very important to keep your hair healthy and use professional products on your hair- especially Gatsby products. 
Starpulse: What's the biggest thing that has changed in your life since being on TV?
Gayle: For me personally it is trying to balance my life at the salon and doing the show. When people stop me on the street and recognize me from the show and want pictures and autographs, I feel like it's just me, why do you want that? I find it very difficult because I don't think of myself of reality star, I just think of it as everyday work. 
Starpulse: What do you think is so intriguing about New Jersey? There seems to be so many Jersey shows on TV lately.  
Gayle: I don't know, I think that for me and I could be 100 % wrong but I think because there are a few of them here and the networks just jumped on the bandwagon and found different things that were going on in New Jersey. There are all different kinds of people her, but then again all the states have different breeds of people, so I just think it was the networks that jumped on the bandwagon. It was a trend- I mean New York has so much happening in the city and Philadelphia too but I think it's great because New Jersey was never recognized and it's a beautiful state. We have everything here and I wouldn't live anywhere else.
Starpulse: What's your favorite reality TV show?
Gayle: I don't have time to watch TV and don't watch any reality shows, barely my own. I am always working and I'm not a big TV person. I guess I am just a true worker. By the time I make it home at night it's late; I eat a salad and go to bed.
Starpulse: Tell me about what it was like to break the world record of cutting 200 heads of hair in 8 hours.
Gayle: It was very tiring and exciting. Everyone got really excited about it and really pushed themselves because the girls really aren't used to working that hard and it was interesting to see them. It was more of a contest between all of them as to how many haircuts they did.
Starpulse: Did you think you were going to do it?
Gayle: You can never be too sure of anything and I figured that it was possible but you don't know. I was actually cutting hair myself but it was very exciting and I am very happy that we did it.
Starpulse: Will there be more seasons of Jerseylicious?
Gayle: I am almost positive that they are going for season 4 but it hasn't been released yet. It is one of Style Network's top shows so I can't see why they wouldn't go for a fourth season.    
Starpulse: Does Jerseylicious have a Facebook or Twitter page?
Gayle:  Yes, we have Twitter and Facebook for the fans to follow. Lastly, I hope it is going to be a great season and everyone will watch and we will have a season 4.
http://www.facebook.com/pages/Jerseylicious/235899176545
http://twitter.com/#!/jerseylicious
Make sure to follow Gayle and the cast of Jerseylicious so you won't miss out on any of the drama of the hit show. Jerseylicious airs on Sunday nights at 8:00 pm on the Style Network.