Gay Characters On TV? No Big Deal

Remember a few years ago when entertainment magazines hailed the coming of gay television? With hits like
Queer Eye for the Straight Guy
and
Will & Grace
drawing millions of fans on both sides of the gay fence it seemed like a veritable gay revolution was at hand. Then "Will & Grace" stopped being funny, "Queer Eye" ceased being entertaining, and
Ellen
became the straightest lesbian to ever host her own talk show.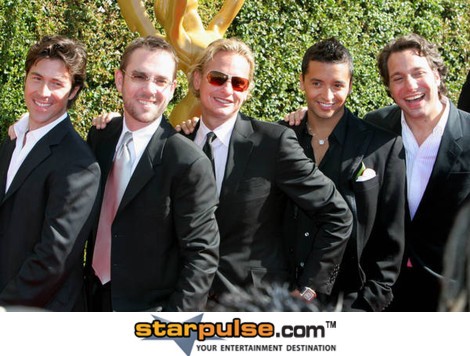 Queer Eye
Was the gay television boom dead, or had it retreated into the closet waiting for a brand new coming out party? Where have all the dude loving dudes gone? Are there any ladies on the tube who no straight man in America have a chance with? If you take a closer look you'll find gay characters everywhere, they're just not getting the media attention of days gone by. Are gay characters forced to keep quiet or is this silence from media and networks signaling a brand new era in television?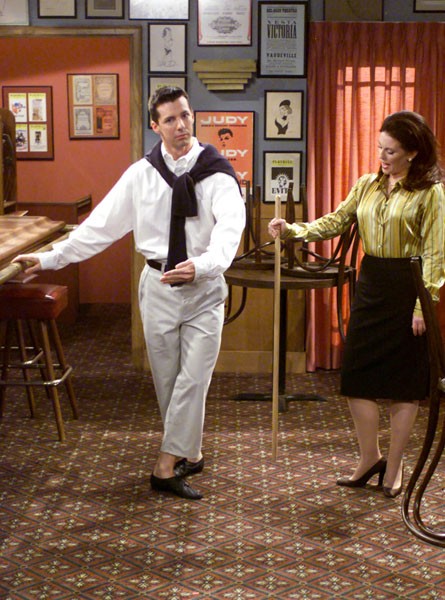 Will & Grace
In
Brokeback Mountain
Jake Gyllenhaal
and
Heath Ledger
were given praise for their bravery in portraying two closeted gay men who lead straight lives while their forbidden romance ends in tragedy. Who'd have thought Hollywood had a time machine back to the 60s where being gay always ended in death? So clearly the silver screen is not the leader of social change it claims to be.
While Jake and Heath gained attention for their roles, when was the last magazine article you read about
Matthew Rhys
and Luke McFarlane, two actors portraying a married gay couple on ABC's family drama
Brothers & Sisters
? They play Kevin and Scotty, respectively, and their relationship wasn't about coming out or hiding who they are. Instead their drama stemmed from Kevin's inability to share feelings, his issues with wealth and status, and Scotty's own journey from office assistant to homeless culinary student.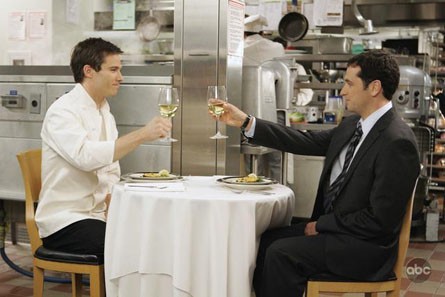 Brothers & Sisters
So which couple has done more for gay characters in entertainment? The answer: Kevin and Scotty. Real acceptance of gay characters does not come when the media makes a circus out of a relationship. Real change happens when nobody bats an eyelash and when parents and children are able to watch these characters interact and make no distinction between them and their straight counterparts. McFarlane happens to be an out gay man while Rhys is straight; neither actor's sexual orientation comes into play when they are together on screen. If you're a fan of
Dawson's Creek
take a look at the finale when gay characters Jack and Doug kiss. If you don't notice the awkwardness between the two actors, or even Jack wiping his mouth afterwards Starpulse will send you each a cookie (just send a S.A.S.E. and three dollars for cookie fees). Television has come a long way in a short amount of time.
Now before television gets a big head for their policy on gay characters, not every storyline is exactly painting a beautiful picture. The season finale of
Grey's Anatomy
set up an interesting premise where once 100 percent heterosexual Callie (
Sara Ramirez
) found herself in a steaming lip lock with Dr. Hahn (
Brooke Smith
). Where is it written then people just change their sexual orientations if the right person comes along? This trend was highlighted in
Kevin Smith's
film
Chasing Amy
where a seemingly lesbian woman becomes straight, then gay again, but was revealed as straight before the events of the film. The DVD release came with a map to track her progress. The "Grey's" storyline smacks of shocking sweeps schlock. From a show that a few episodes prior dealt with two gay soldiers in love, "Grey's Anatomy" gets a mark against its otherwise flawless record.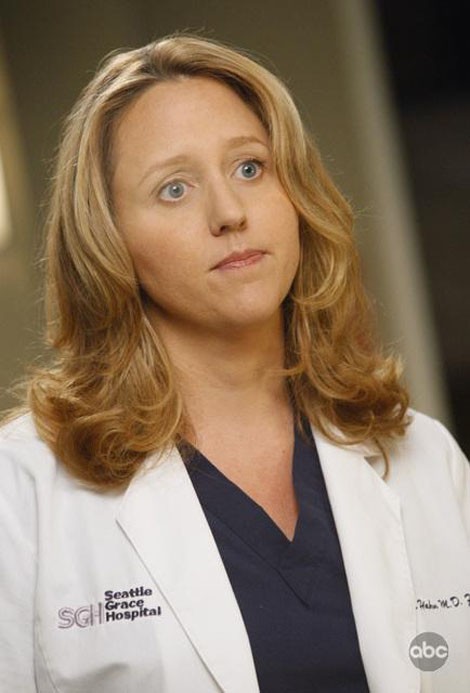 Grey's Anatomy
The biggest problem facing television today is that some writers simply don't know how to integrate gay characters into their show. Many television watchers aren't content with the asexual characters seen on "Will & Grace" while other viewers will get overly sensitive if gay characters are seen as anything less than angelic. What if the title character in
Dexter
was in fact gay? Would gay rights groups be up in arms? Sadly their overreaction would be a detriment to gay viewers who want to relate to real characters, even if their flaws include the tendency to kill.
So where can viewers hope to find gay characters this season? A better question should be what sort of television you are interested in? From bisexual alien hunters on
Torchwood
to gay college students on
Greek
, television has you covered. Last season the Gay and Lesbian Alliance Against Defamation (GLAAD) listed 57 LGBT characters on cable television and 20 on network television. No, this list does include such joke characters as Smithers from
The Simpsons
, but for every one joke throwback to the 90s, there are multi-layered characters whose sexuality is one part of their much deeper character. These are the characters that should be applauded, not for being out and proud but for being regular people with the same happiness, hopes, faults, and insecurities as every other character. The gay revolution has joined the party and it didn't enter with a whimper or a bang, it just showed up with the rest of the guests. Ok, maybe it was fashionably late.
Story by
Dan Chruscinski
Starpulse contributing writer