Gavin DeGraw Recalls NYC Street Attack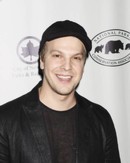 Musician Gavin DeGraw feared for his life during a street attack in New York after "all hell broke loose" following a heated exchange with a group of men.

DeGraw suffered concussion and memory loss following the incident earlier this month, but the star is slowly remembering the lead-up to the attack.

He admits he became embroiled in an exchange with the men following a comment he "didn't like" - and he suddenly became a target.

He tells Washington D.C.'s Hot 99.5, "I met up with a couple of friends... I was walking home... I got a few blocks and then all hell broke loose. Somebody said something to me. I didn't like (it). I let them know I didn't like it... '

"The first thing on my mind was, 'My life's in jeopardy' and I was bleeding pretty bad... Fortunately I lived through it. It was very bloody."

Following the attack, the star was taken to the hospital by ambulance and underwent surgery to his broken nose before being allowed home.