Gary Sinise's Benefit Concert Raises $130,000 For Injured Marine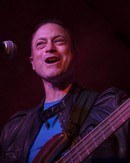 Actor Gary Sinise has raised more than $130,000 for a Marine who lost both of his legs while serving in Afghanistan.
 
The star, famed for played a soldier who lost his lower limbs in hit movie Forrest Gump, was so moved when he heard of the plight of Lance Corporal Juan Dominguez that he organized a benefit concert to raise cash to build a specially-equipped home for him.

Dominguez, who also lost his right arm while serving in Sangin in 2010, was the guest of honor at the concert in Temecula, California last week.

Sinise and his Lt. Dan Band performed at the event, covering tracks including Jimi Hendrix's Purple Haze, and the actor has spoken of his delight after learning of the fundraising total.

In a post on his Twitter.com page, he writes, "Thank u (sic) Temecula for coming out in force 4 (sic) our concert in support of Juan Dominguez... It will support getting him a special home."