Gary Sinise Planning Benefit Concert For Injured Marine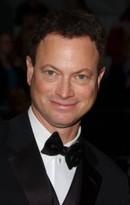 Actor Gary Sinise is planning to stage a benefit concert to raise funds for a Marine who lost both of his legs while serving in Afghanistan.

The star played a soldier who lost his lower limbs in hit movie Forrest Gump and he was moved when he heard of the plight of Lance Corporal Juan Dominguez.

As well as his legs, Dominguez also lost his right arm while serving in Sangin in 2010, and Sinise is hoping his charity event will raise enough to build a specially-equipped home for the solider in Temecula, California.

The actor will outline his plans for the concert, tentatively scheduled to be held on March 1st, to Temecula City Council on Tuesday.

In a statement obtained by the Los Angeles Times, Sinise says the event will "recognize the heroism, sacrifice and dedication Juan has displayed."

Last year, the actor set up the Gary Sinise Foundation to help aid troops and their families.