Gary Oldman Says His 'Tinker Tailor Soldier Spy' Character Is A Better Spy Than James Bond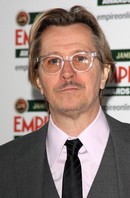 Gary Oldman has urged the producers of the James Bond films to study his spy thriller Tinker Tailor Soldier Spy - because he thinks 007 should be a better undercover man.

The Oscar-nominated star, who plays veteran spy George Smiley in the film, admits he has always been puzzled by Ian Fleming's flamboyant hero.

Oldman explains, "He's (Smiley) the polar opposite of Bond. He is the man in the mac who you would pass in the street and not look at twice, whereas Bond, it's always struck me, announces who he is everywhere he goes - to the villain, to the guy that wants to kill him.

"He wears a white tuxedo and you go, 'Where's Bond...?' He's just pulled up in the Aston Martin... I've always found that strange.

"(It's like), 'I'm Bond, kill me!'"