Gary Noon Meets His Music Heroes On 'Walking With Giants' EP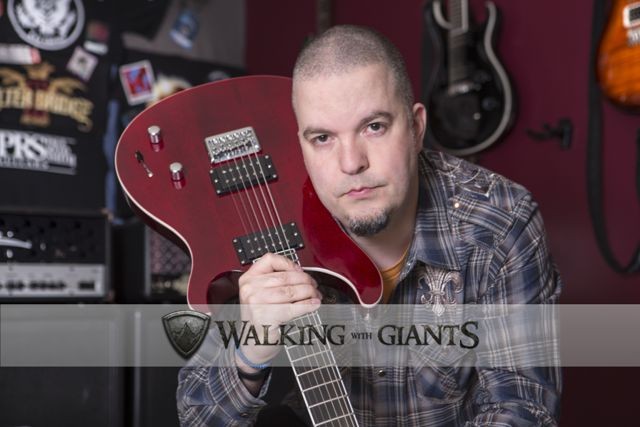 Gary Noon is living every music fan's dream. The guitarist and vocalist originally aimed to start a tribute band, and instead ended up collaborating with members of the two bands he was going to play in tribute to. How cool is that? Gary recently sat down with BFTV to answer that question, as well as give us the full inside scoop on the newly available Walking with Giants EP.
The record is the culmination of Gary's almost lifelong journey with music. "I started playing guitar when I was 18. I'm 43 now. So it could be considered a long time," he explained. "I started in high school. Almost flunked the 12th grade because I got so into the guitar. I got so hooked that I borrowed a friend's guitar after my dad grounded me for my grades and he took my guitar away." Although he tried other artistic avenues, like drawing and painting, Gary always came back to music.
Two of his favorite bands are Alter Bridge and Sevendust, and his initial idea was to form a tribute band to those two groups. "I felt the best way that I could really get out there and show my appreciation for them was to play their music," he continued. "There were hardly any tribute bands playing their music. Nobody really paying tribute to some of the more modern bands that I think deserve it. But I changed my mind, because quite frankly, it was hard to find guys that could play the instruments and were responsible and committed."
Gary ended up with the world's best Plan B. A mutual friend introduced him to Alter Bridge's Scott Phillips and Sevendust's Clint Lowery, and the three of them formed Walking With Giants. Gary provides vocals, guitars and bass, with Clint assisting on guitars and backing vocals, and Scott on drums.
Unsurprisingly, the team-up came with not just perks, but also a little bit of pressure. "The guys that I'm working with are musical heroes of mine, but they ended up being friends of mine too," Gary commented, "which is kind of weird, because on one hand you're looking up to them, but on [the other] hand you're having a good time.
"Out of respect for them, I don't want them to sign their name to something that's going to be dumb," he added. "So when we went into the studio, we had about nine core ideas for the songs, and I told Clint - who's also the producer - we've got 7 days to get this thing done and if there's a song we're not certain of, let's not do it."
His two favorite songs on the EP are "Inside Out" and "Another Life," and you can listen to the latter below.
Now Gary is hoping that his dream project won't be a one-off. "The plan is to form a band that's going to be around for a long time," he told us, in the midst of planning shows and looking for other artists who can join the lineup when necessary. But he's also not in a rush to make things happen. "I'm taking my time," he added. "I want to make sure I do it right. I want this thing to be the second successful career for me."
What's his definition of a successful career? "Ultimately, I want to be able to tour the world, and I have to say comfortably, right?" he quipped. "I want to get to the point musically where I can go anywhere in the world I want and play to as many people as I want.  I don't want to become a celebrity musician. But I do want to be at that success level where I can get to as many people as I can." Spoken like a true music fan.
Walking with Giants is now available on iTunes.
(c)2013 Brittany Frederick. Appears at Starpulse with permission. All rights reserved. No reproduction permitted. Visit my official website and follow me on Twitter at @tvbrittanyf.